FatBatt maximizes the life of your PC's battery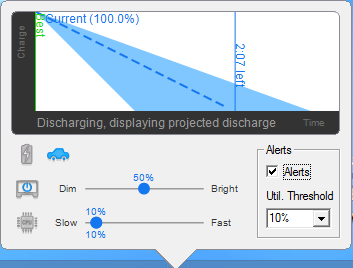 Using your laptop on the move can mean having to dart from one power source to another. Whether you have a new laptop with a brand new battery, or an aging system with a battery that has seen better days, the amount of time you can use your computer without plugging in is of paramount importance. There are steps you can take to maximize the life of your battery, and it is also something that FatBatt can help you with.
There are several facets to the app. Firstly, it aims to give you an accurate estimate of how long your battery is going to last before you need to charge it up. This enables you to make informed decisions about how to use the time available to you, and how to manage your next charging session.
But more than this, FatBatt provides you with tools that can be used to help maximize the life of your battery. If there are any applications that are draining resources, you will be alerted to them so you can close them down. One of the easiest ways to increase battery life is to reduce screen brightness and processor speed.
With FatBatt this is reduced to a single click process so you can switch between home and away modes very quickly. It is also possible to adjust these settings based on where you are. This is achieved by network identity. When you are at home or in the office, for example, you're probably going to be able to plug your laptop in whenever you need to, so there is no need for aggressive powersaving. But when you're out and about, perhaps connected to a network in a particular coffee shop. more hardcore settings can be put in place so you can go for longer between charges.
FatBatt is available for laptops running Windows 7 and Windows 8. The software costs $14.99, but you can download a free trial from the review page to see how you get on with it first.