Xara Web Designer 9 Premium review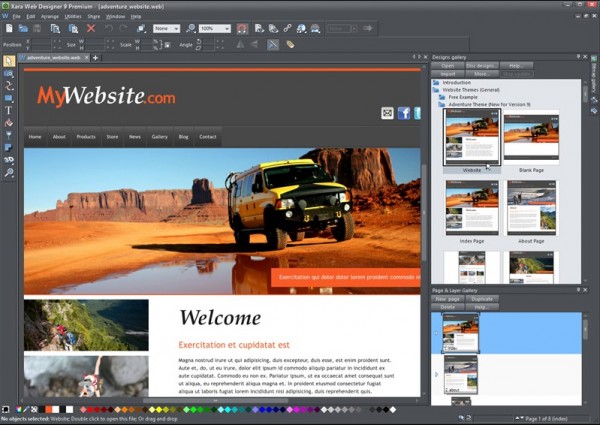 Not everyone is a web-coding whizz, or wants to learn the intricacies of HTML, CSS, PHP or other web-based programming languages. Xara Web Designer 9 is aimed squarely at those who prefer to design websites using desktop publishing tools, where what you see on-screen is what you expect to see with the finished design. Over recent years, Web Designer has built into a powerful, user-friendly tool that -- a few quirks aside -- makes designing websites as simple as putting together magazines, newsletters or brochures.
At first glance it looks beginner-friendly: pick a template, import your text and graphics, and build your site page-by-page at a time. But that does Web Designer a disservice, because if you delve deeper, you'll find it has all the tools you need to design more complex sites that are attractive to look at, easy to navigate and bursting with support for all the latest technologies, from Flash-based animations to interactive widgets.
First steps

Fire up Web Designer and you're presented with the option of creating a page from scratch or using one of the design templates. While it's tempting to opt for the latter, doing so creates a set of web pages based on the different page designs available within that template -- up to 15 are provided with each template. A better option is to create a new, blank site, open the Designs Gallery, pick a template and then drag in individual pages to get started with.
There are dozens of templates provided -- over 20 have been added to version 9 -- covering general, and web-presentation themes, all of which can be customized to your own tastes should -- for example -- you like the design, but detest the color scheme. You'll also find a new Business-specific templates section, but sadly these don't come free, costing $15 a pop, although by upgrading to Web Designer 9 Premium you're given a voucher that lets you download one for free.
From here, everything is drag and drop and anyone with experience with desktop publishing packages will soon discover just how powerful and versatile the tool is. You can simply replace existing page elements with your own text and graphics, or start crafting pages to your own more demanding specifications.
It's when you venture beyond the basics of taking a template and populating it with your own content that you start to appreciate just how clever Web Designer is. Drop in page elements from the various galleries (Web Designer is smart enough to match these to the overall design of the site -- if you want it too, of course), then fine-tune them without ever having to type in any HTML or CSS code. This really is a designer's web-building tool.
And you're not restricted to basic building blocks, either. Web Designer makes it easy to add all kinds of whizz-bang-pop elements like YouTube video, PayPal options and social-networking buttons to your site. There are tools for fine-tuning any images you import, plus all manner of shapes, shadows and other clever effects that can be applied to your pages, and all with just a few clicks of the mouse.
Frustrations
Web Designer is so good -- on the whole -- at making page design so straightforward that when it fails to support seemingly logical behavior, the frustration is acute. Why can't you resize a photo within a frame, for example, or alternatively crop a photo and then apply a simple photo frame border to the cropped image?
Then there are your attempts to duplicate existing objects in order to extend a page with new content using the existing layout. However we tried duplicating those objects -- copy and paste, clone or duplicate, the end result was the same: an exact replica of the original objects, content and all. Change the images or text in one object, and the duplicate's content changed to match. That's fine for generating content that repeats over several pages, but where's the simple option to just duplicate the basic frame, allowing you to change its content independently of the original? Alternatively, how about letting you create your own custom widgets and page elements for dragging and dropping into place?
And that leads on to another issue: Xara Web Designer is very much a tool for building page-by-page websites, where the content on each page is individually put together. These days, more and more people are discovering the benefits of using Content Management Systems to separate design and content -- if only Xara had such capabilities built-in, it would become irresistible. As it is, sadly, its appeal is limited to those whose demands don't involve populating lots of similar content across a basic set of design templates.
What's new?
If you're a happy Web Designer MX 8 user, you may be wondering if upgrading is worth your time and money: the simple answer is yes, particularly if your PC has more than 4GB RAM and is running a 64-bit version of Windows. Xara Web Designer 9 Premium is the first build to ship with a dedicated 64-bit version that will take full advantage of any extra memory you can throw at it, helping boost performance.
You'll also want to upgrade if you're looking to provide a site that looks gorgeous on Retina displays. Web Designer 9 automatically generates the high-resolution graphics required to make your sites shine on Apple's high-res displays -- helped immeasurably by its vastly improved compatibility with all the latest HTML5 standards. This ensures graphics load more quickly and scale better when required -- your site even knows when to load Retina-friendly graphics and when to stick with the standard-resolution versions to boost page-loading times.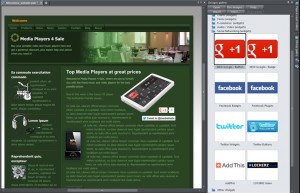 Web Authoring improvements include direct support for Google Fonts -- including a Google Font picker, which can be embedded in your site should the web standard options not appeal. A new "pull" option extends the automatic sizing of pages (and subsequent positioning of page elements) upwards as well as down, while we also love support for drag-and-drop navbar replacement.
Creating web presentations is also more intuitive and quicker thanks to improvements that are overdue in hindsight: steps aren't automatically deleted until the site is saved or exported, the current step is shown in the presentation bar (all steps above it are now hidden by default) and adding a new step automatically makes it the current one. Still, better late than never.
Other new features include a new Google Analytics tab under the Web Properties screen, plus handy new widgets making it easy to embed Google Ads, Google+ buttons and basic tables into your site. Then there are minor -- but notable improvements -- the fly-out toolbar is less frustrating to navigate now it doesn't disappear so readily, while JPEG and PNG images are handled just that little bit better too.
There's also compatibility with Windows 8 touch, but this will only benefit users with all-in-one PCs or multi-touch monitors as the version of Windows 8 (Windows RT) shipped with tablets can't actually run any desktop applications, which includes Web Designer 9.
Verdict
It's hard not to like Xara Web Designer 9 Premium. If you're looking for a DTP-friendly approach to building page-driven websites then it's got pretty much everything you need to design attractive, yet easy-to-navigate and quick-to-load websites. There are some niggles you may have to circumvent, and the lack of CMS-friendly tools will make it an impractical solution for more content-driven sites, but if your needs match its capabilities then this latest build is well worth taking for a spin.