Gmail Notifier Pro 5 adds Exchange, SkyDrive support, introduces new RSS server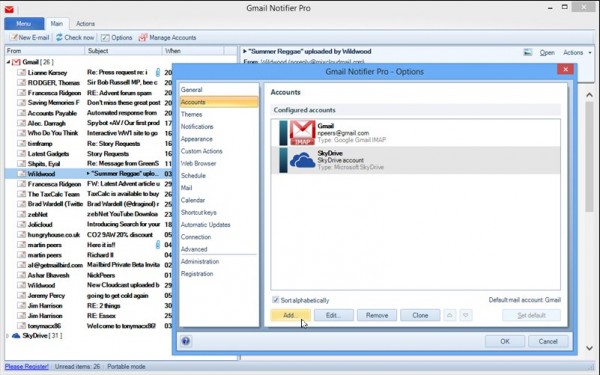 IntelliBreeze Software has released Gmail Notifier Pro 5.0, a major update of its Windows tool for monitoring various online accounts via the Taskbar Notification area. The tool, which allows personal users to monitor up to two supported accounts without registration, offers more than simple Google Mail notifications, and version 5.0 extends this support further by adding Microsoft Exchange and SkyDrive notifications to its feature list.
Version 5.0 also adds a built-in local RSS feed server, allowing users to pipe notifications from the program into RSS readers on other platforms, including smartphones as well as computers.
Gmail Notifier Pro 5.0 also promises better customization options, allowing users to define Notification themes using rules, so context-sensitive notifications can be sent depending on the content of the message. Also supported in this new build is the ability to define custom actions for message operations where multiple operations can be combined.
Other improvements in Gmail Notifier Pro 5.0 include the ability of the program to monitor the user's Facebook message inbox as part of their wider Facebook profile, a switch to the new Google Drive SPI and better folder support for IMAP.
Users also get to choose their own custom encryption key for securing their Gmail Notifier Pro accounts, additional settings appearing in the Options dialogue box and a number of bug fixes, including one that boosts overall IMAP stability.
Users are also warned about the loss of the Google Reader service from July 1, but the option to use Google Reader accounts remains in the new release.
Gmail Notifier Pro 5.0 is available now as a free download for PCs running Windows XP or later with the Microsoft .NET Framework 3.5 or later installed in XP or Vista. The free, unregistered version is limited to personal use and supports just two accounts; users can purchase single-user Personal Licenses for $12.95+VAT and single-user Commercial Licenses for $19.95 plus VAT.