Take control of your command line windows with ConsoleHoster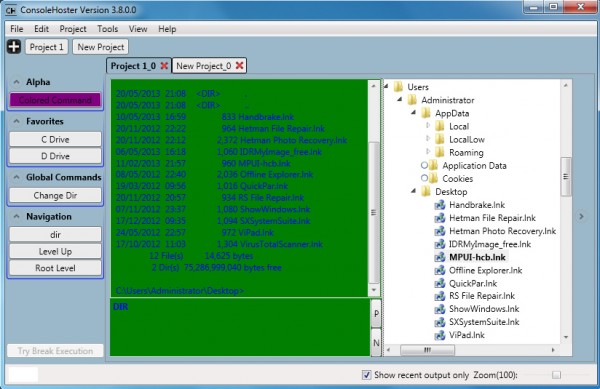 Most PC users could benefit from working at the command line occasionally, but the rather basic interface is enough to put most people off. You don't have to live with the standard Windows setup, though. There are plenty of tools which claim they can help, and one of the latest, ConsoleHoster, improves on the default command window in several ways.
Getting started with the program is certainly very easy. Download, unzip and launch it (there's no installation required), click "Project 1" and your first command session appears. The blue text on a green background is a little distracting, but otherwise it's straightforward enough. The main part of the window is split into two panes; you enter your commands in the lower, and any output appears above it.
One immediate benefit of this arrangement is that you can resize the ConsoleHoster window, and unlike a regular command line window, the text reformats itself to fit. Which means you're not wasting time with horizontal scrolling just because you want to review what you did earlier.
In addition, an Explorer-type pane on the right side of ConsoleHoster provides an easier way to view files and folders. If you change to a new drive -- just enter D:\ , say -- then the Explorer view updates accordingly, so you can check out files and folders without needing to enter DIR and browse through any response.
ConsoleHoster provides various other tools to assist with navigation. You can change the current directory in a command line session by shift+clicking a folder in the Explorer view, for instance. And you're able to add files or folders to a Favorites list, allowing you to return to that location later in a single click.
The program also has "Global Command" buttons, shortcuts to frequently used commands. Some very basic examples are included ("DIR", "CD \", "CD .."), but you can easily add more, then recall them at will with a click.
And, perhaps most usefully, none of these settings are global. Instead they're assigned to "Projects", individual command line sessions which can have their own color scheme, starting folder, favorite locations, global commands and so one. As a result, you're able to create different command line sessions for different purposes. And then you can run as many of these command windows as you need at the same time, switching between them via a simple tabbed interface.
Despite all this apparent functionality, ConsoleHoster has various problems, particularly with the Explorer view. This can be horribly slow when expanding large folder trees, for instance. It doesn't consistently synchronize with your command session. Right-clicking files and folders gets you ConsoleHoster options only, nothing else (not even a "Properties"). And sometimes right-clicking got us nothing whatsoever, although we could never figure out why.
Still, ConsoleHoster is free, extremely lightweight (0.5MB unzipped) and with no unwanted extras. Its ability to run multiple command line sessions in a single tabbed interface may already be useful, to some. The program is being updated every few days, so we'd guess any technical issues will be resolved soon. And we'll be interested to see where the project goes next.