Itsdagram for Windows Phone 8 gets new features, ad-supported free version arrives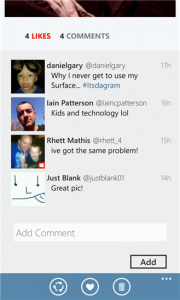 The lack of an official Instagram app for Windows Phone opened the door to many third-party offerings looking to make their mark on the ecosystem. Itsdagram, released little under a week ago with a comprehensive feature set, seized the opportunity and climbed to the number one spot in the top paid category in the US Windows Phone Store.
Daniel Gary, the developer behind the app, decided to further build on Itsdagram's success by releasing a free, ad-supported, version which comes with unlimited photo uploads and the same feature set as its paid counterpart. Previously, the trial variant only allowed users to post a single photo to Instagram.
The developer also released an update for Itsdagram, meant to bring new feature and iron out a couple of bugs. The app now boasts a tweaked UI (User Interface), a counter for followers, following and photos on the user's profile page and a refreshed live tile design which reflects its new icon.
Users have the ability to approve and deny follow requests, enable private profiles and save photos on the device. The app no longer allows to send feedback directly to the developer as the corresponding page is now removed.
The latest version of the app also comes with bug fixes and improvements for the finding friends feature, repeating notifications and the registration process.
Itsdagram (paid version) is available to download from the Windows Phone Store.
Itsdagram (free version) is available to download from the Windows Phone Store.