Shock survey: 37% of orgs plan to adopt Office 365 within 24 Months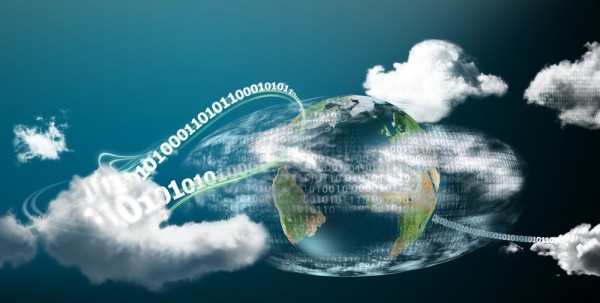 The war for the hearts and minds of potential cloud email users at organizations worldwide is far from over. Both Microsoft and Google are winning small field skirmishes for their respective corners over the past few years. Most recently, Microsoft won huge contracts with the State of Texas and the City of Chicago moving to Office 365's vision for the cloud. Conversely, Google Apps chalked up big converts in the form of CBC Radio Canada and the US National Archives.
UK business technology website Computing.co.uk has published the results of a survey it ran across 160 IT decision makers from organizations of all shapes and sizes. While the survey sheds light on numerous opinions surrounding the major cloud email platforms, its most shocking finding is that a whopping 37 percent of organizations moving to the cloud for email are opting for Office 365 over all the major players. Other cloud vendors included in the survey results were Google Apps, Apple iWork, and QuickOffice.
Why does this represent a potential shift in the cloud email war? For one thing, adoption of Google Apps and Office 365 has been neck and neck in most respects thus far. Each platform has been hawking large customer wins, but the battlefield has been nothing more than a tit-for-tat chess game. If the numbers behind the Computing.co.uk survey hold true, Office 365 will hold nearly a double digit market share lead over Google Apps in just 24 months time. For two cloud email suites that have been both steadily climbing in adoption as of late, Office 365 surging ahead could signal changing dynamics in how Microsoft's camp is viewed, primarily by the enterprise.
I put the latest (Feb 2013) iteration of Office 365 through its paces for a review last week, and my own findings based on months of customer usage in the field has been overwhelmingly positive. In most aspects, my opinion of the newly-rehashed suite turned 180 degrees for the better in contrast to the harsh words I had for Microsoft just a half year ago. Google Apps was the cloud email leader, in my opinion -- a feeling a majority of my own company's customers shared. Now I fully believe Microsoft is definitely in it to win it at all costs.
These sentiments are likely being echoed by IT decision makers who have until now been hesitant with any potential moves to the cloud. Heavy Microsoft organizations, likely having spent the last decade deeply rooted on in some flavor of Exchange, have been rightfully hesitant about moving into Google's cloud. And with all of the fumbles that Office 365 was making before the latest Feb 2013 release, they were waiting until Microsoft cleaned up its act.
The Meaning behind the Numbers
It's easy to paint a simplified picture as to how Microsoft could be gaining so much mindshare now, but there are a few key underlying factors to keep in perspective. Most importantly, we cannot forget that Office 365 landed on the cloud email scene quite a bit later than Google Apps. Google got into the game way back in 2007, with Microsoft (barring the infamous mess of the now-defunct BPOS) coming in as late as 2011. By all measures, Office 365 is still a bona-fide rookie in the cloud email scene compared to Google's tenure.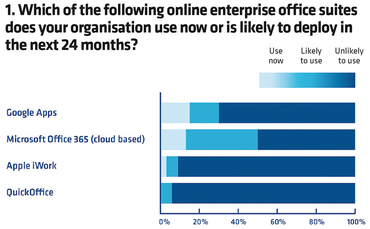 Out of 160 surveyed IT decision makers from organizations of all sizes, a full 37 percent are planning moves to Office 365 in 2 years or less. Google Apps gets support from only 15 percent. (Image & Survey Credit: Computing.co.uk)
It's also not absurd to believe that with a 4+ year jump start, a large number of organizations who have been yearning to move into the cloud have potentially already done so. Google has had a much easier time convincing small businesses to make the transition in comparison to larger enterprise customers. Not only are smaller companies more keen to adjusting with change, but they are usually less likely to be dug into the Microsoft trenches when it comes to being tightly Exchange driven.
Another factor that could have been delaying the enterprise transition to cloud email likely also entails the hesitant opinion IT decision makers have had about the cloud in general until now. After hearing about security breaches at various cloud outlets, such as cloud mainstays LinkedIn and Zappos, and with the industry as a whole still growing, the enterprise shared a common groupthink dilemma. While a good portion of these initial security and privacy concerns have been answered in the form of private and hybrid clouds, change in thinking is usually slow to permeate across the enterprise landscape.
It's also not inconceivable to believe that Microsoft's all-encompassing cloud vision may be more appealing to larger organizations, especially with the recent developments surrounding Office 365. As I quoted in my recent Office 365 review, Microsoft is putting an 18 month timeframe on plans to offer a fully cloud-hosted Lync-powered PBX alternative to what most companies handle now with aging on-premise PBX hardware. Likewise, Office Web Apps along with SharePoint Online are becoming extremely versatile alternatives to their desktop-based cousins. For large Microsoft shops, a full circle cloud move to Office 365's ecosystem is becoming a cost-effective viable future for the long term.
Life after Desktop Office -- it's Here, Survey finds
In another similarly surprising finding, the same IT decision makers surveyed above voiced in on whether users at their respective organizations could function fully on purely cloud-based office suites. The largest chunk of respondents -- 46 percent to be accurate -- claim that a majority of their workers would suffice with cloud-based office platforms, with only a few requiring traditional desktop packages like Office. A slightly smaller minority at 42 percent opted "no" on the same question. Either way you look at it, this is a tide turning moment in cloud email suite opinion.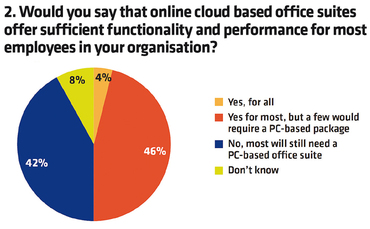 In another shock result, a full 46 percent of those surveyed are confident that cloud office suites are capable of meeting the productivity needs for a majority of their user bases. In all essence, this means Office Web Apps and Google Docs are finally being taken seriously as solid replacements to Office and OpenOffice. (Image & Survey Credit: Computing.co.uk)
The browser-based office suite war has been a bit of its own sideshow in the grander cloud onslaught. Google has been for years advertising how a majority of users can easily get by in Docs without traditional Office. Microsoft, hitting back, has been trying to highlight the shortcomings of Docs and how its own Office Web Apps are a better choice for cloud office productivity. Who's winning in the end? Both sides actually, if these survey numbers hold true. The very fact that the enterprise as a whole is sold on the notion of life after desktop productivity software (aka Office) for most users is the cultural shift each camp has been belatedly waiting for.
What could be changing the tide of opinion on cloud office software? For one, file format dependence is becoming a thing of the past as Google Docs has been rapidly implementing better support for Microsoft's native formats. And as Office Web Apps continues to mature, support of Microsoft's own desktop formats will continue to exponentially grow hand in hand.
Both vendors have a clear incentive to provide the broadest and deepest alternative to the traditional Office experience, because as this survey shows, most organizations seem to be ready for a cloud-powered document creation experience - even if there are a few bumps along the way. In my exhaustive review of the Feb 2013 iteration of Office 365, I devoted quite a few words as to my thoughts on the improvements that Office Web Apps now represent. In short: while not perfect, Office Web Apps is markedly better (and more capable) than what it was in the pre-2013 version.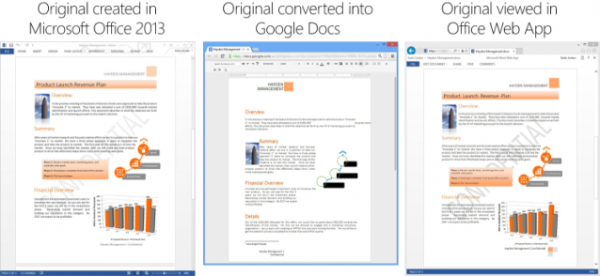 Microsoft is fighting a guerilla war in the browser-based office suite arena by highlighting how much better Office Web Apps plays with native Office file formats compared to Google Docs. The marketing campaign may be starting to pay off. (Image Credit: Microsoft)
Let's also not look past a clear, easy winner for the cloud: cost. Desktop versions of Office are not getting any cheaper, and Microsoft (albeit quietly) would prefer its customers move into 365-powered subscriptions with access to Office Web Apps alongside traditional desktop Office, if warranted. Both gorillas in the cloud email arena are very cost effective options for those who want browser-based office suite capability. Google Apps offers all customers access to Google Docs as part of its $50/user per year price tag, and even Microsoft's lowest enterprise focused Office 365 E1 subscription level at $8/user per month includes full authoring/viewing rights for Office Web Apps.
It's tough to say which provider presents the hands-down best cloud vision encompassing email, document creation, and unified communications alike. As the cloud email war continues to unfold, it will be interesting to see which camp picks up the clear momentum over mindshare and adoption. But if the numbers behind this latest survey are any indication, Google could have an uphill battle on its footsteps if the enterprise holds true to its promise in moving onto the Office 365 ecosystem in two years time or less.
Photo Credit: T. L. Furrer/Shutterstock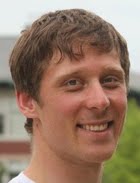 Derrick Wlodarz is an IT Specialist that owns Park Ridge, IL (USA) based technology consulting & service company FireLogic, with over 8+ years of IT experience in the private and public sectors. He holds numerous technical credentials from Microsoft, Google, and CompTIA and specializes in consulting customers on growing hot technologies such as Office 365, Google Apps, cloud hosted VoIP, among others. Derrick is an active member of CompTIA's Subject Matter Expert Technical Advisory Council that shapes the future of CompTIA exams across the world. You can reach him at derrick at wlodarz dot net.