Samsung unveils the Galaxy S4 zoom -- Android smartphone meets huge camera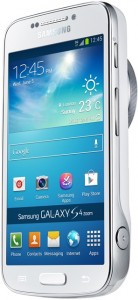 If you thought the Galaxy S4 lineup could not grow any bigger you would be wrong. South Korean manufacturer Samsung announced, on Wednesday, the fourth member in its upscale smartphone family -- the Galaxy S4 zoom. The handset differentiates itself from the pack by offering a whopping 16 MP back-facing camera with 10x optical zoom. Yes, it's rather large and heavy because of it.
"As communication continues to become increasingly visual in nature, people wish to capture and share their moments in the highest quality possible, but often do not have the space or inclination to carry a dedicated camera for this purpose", says Samsung CEO JK Shin. "The Galaxy S4 zoom changes this forever, combining the industry leading functionality and connectivity of the Galaxy S4 with the high quality photographic experience you'd expect from a compact camera. The result is truly the best of both worlds, without compromise". Surely, the "without compromise" part sounds too good to be true.
And, unsurprisingly, it is. Bar the main camera, the Galaxy S4 zoom has more in common with the low-end Galaxy S4 Mini than it does with the Galaxy S4 flagship. Let's take a look at the specs.
The Galaxy S4 zoom packs a 4.3-inch Super AMOLED display with a resolution of 540 by 960; 1.5 GHz dual-core processor; 1.5 GB of RAM; 2,330 mAh battery; 1.9 MP front-facing camera; 8 GB of internal storage (roughly 5 GB of which are user-acessible); microSD card slot; 4G LTE and HSPA+ cellular connectivity; Wi-Fi 802.11 a/b/g/n; Bluetooth 4.0; NFC (Near Field Communication) and GPS with Glonass support. The Galaxy S4 zoom comes in at 125.5 x 63.5 x 15.4 and 208 grams. The smartphone runs Android 4.2 Jelly Bean.
The Galaxy S4 Mini has a slightly higher-clocked dual-core processor (runs at 1.7 GHz) and smaller battery (1,900 mAh) but the rest of the specifications remain the same. The Galaxy S4 Mini measures 124.6 x 61.3 x 8.94 mm and weighs 107 grams. And, it also comes in a dual-SIM version (adds one gram to the overall weight of the device).
By contrast, the Galaxy S4 offers a bigger display (5-inch AMOLED) with a higher resolution and ppi (pixels per inch) density (1080 by 1920 and 440 ppi, respectively), more RAM (2 GB), beefier battery (2,600 mAh), bigger front-facing camera (2 MP), more internal storage (16 GB, 32 GB or 64 GB) and faster Wi-Fi connectivity ("ac" support). The rest of the specifications remain the same. The Galaxy S4 comes in at 136.6 x 69.8 x 7.9 mm and 130 grams.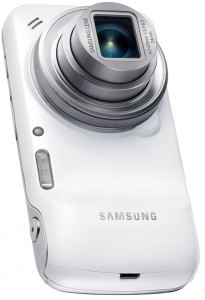 As previously mentioned, the only noteworthy feature of the Galaxy S4 zoom is its 16 MP back-facing camera (BSI CMOS sensor). Specifications include 10x optical zoom; OIS (Optical Image Stabilization) -- Samsung quotes 24-240 mm; F3.1-F6.3 (focal length); ISO range between 100 and 3200 and Xenon flash.
As usual, the South Korean maker also adds its TouchWiz skin atop of Android 4.2 Jelly Bean. Users get the now-customary Story Album, Paper Artist, Group Play, S Voice, S Translator, Link, ChatON and other Samsung-branded apps.
There is no word concerning pricing or availability for the Galaxy S4 zoom. But would you buy one?
The Galaxy S4 zoom is not as portable as the Galaxy S4 Mini or even the Galaxy S4 nor does it feature a clearly better-spec'd shooter than Samsung's own Galaxy Camera does (the latter is capable of 21x optical zoom, for instance).
Despite what the company's CEO JK Shin says, the Galaxy S4 zoom is not without compromise.