Samsung announces new Galaxy NX Android camera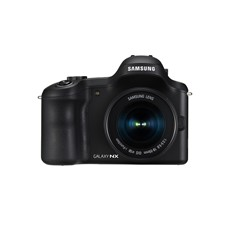 Android continues to slowly insinuate itself into the camera market, from whence it began -- it is a slow process, but the phones started that way as well, so look out. The latest announcement is a new Galaxy NX camera that pushes this to the next level from the past version of this experiment.
The Galaxy NX sports a 3G/4G LTE connection along with WiFi, as well as an array of interchangeable lenses. The 20.3MP APS-C Sensor produces images which Samsung claims are bright and detailed, even in low light conditions, while the DRIMe IV Image Signal Processer delivers the speed and accuracy which today's photographers are looking for. In addition, Samsung touts an Advanced Hybrid Auto Focus (AF) System which ensures accurate phase and contrast detection for your shots and a 1/6000 sec shutter speed and 8.6fps shooting that lets you capture the action as it's happening.
The camera is running Android 4.2 Jelly Bean -- words I never thought I would use together! It also packs in a 1.6GHz Quad-Core Processor and Accelerometer, Geomagnetic, Proximity and Gyro sensors.
The Android operating system, founded by Andy Rubin back in 2003, was intended originally for digital cameras, so it seems things have come full circle as the OS looks to take yet another market. As for pricing and release date, for that we wait.