Battle Tested: Microsoft's cloud services by the numbers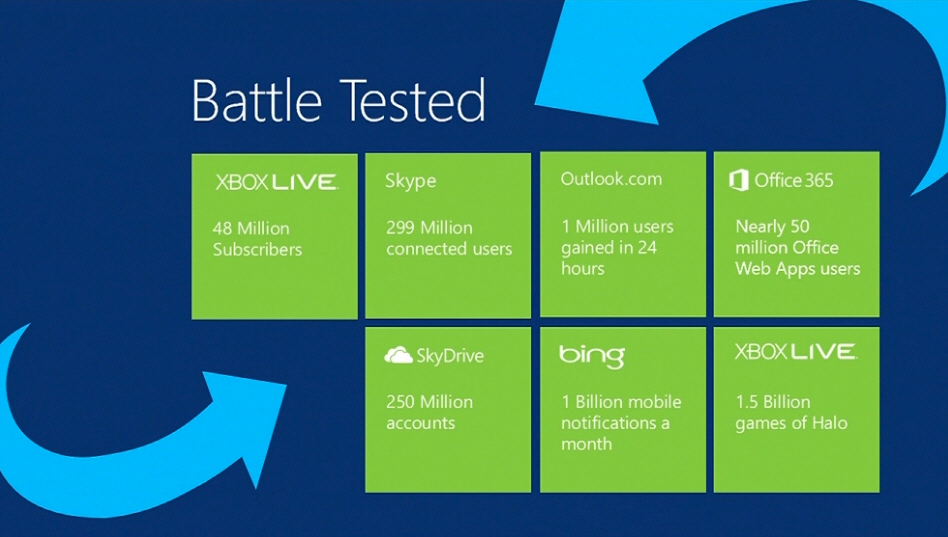 During day two's keynote at the Microsoft Build 2013 developer conference, Server and Tools Business President Satya Nadella talked about the SaaS (Software as a Service) applications Microsoft runs.
In particular he focused on the scale and diversity of the company's daily work in the cloud, while a "Battle Tested" slide displayed the all-important numbers for Xbox Live, Skype, Outlook.com, Office 365, SkyDrive and Bing.
Xbox Live (which appeared twice on the slide) now has 48 million subscribers, and there have been 1.5 billion games of Halo played to date. Skype has 299 million connected users, Outlook.com gained 1 million users in 24 hours, Office 365 has nearly 50 million Office Web Apps users, SkyDrive has 250 million accounts, and Bing delivers 1 billion mobile notifications a month.
Nadella discussed each service in detail, starting with Xbox Live:
Take Xbox. When they started Xbox Live in 2002 they had around 500 servers, now they use something like 300,000 servers -- which are all part of our public cloud -- to be able to really drive their experiences. Halo itself has had over a billion games played, and something like 270 million hours of gameplay, and Halo uses the cloud in very interesting ways -- for pre-production rendering support and assist, gameplay, post production analytics... the amount of  real time analytics that's driving the continuous programming of Halo is pretty stunning.
He then ran through the numbers of the other services.
Take SkyDrive, we have over 250 million accounts. You combine SkyDrive with the usage of Office Web Apps, where we have more than 50 million users of Office Web Apps, you can see a very different set of things that are happening with storage, collaboration, productivity.

Skype is re-architecting their core architecture to take advantage of the cloud for their 290+ million users. Bing Apps, you saw many of them yesterday as part of Windows 8.1, are using the Azure backend to do a lot of things like notifications which is one of the core scenarios for any mobile apps, and this has to send something like a billion notifications a month.
I'd like to have seen the latest total numbers for Outlook.com, but all very interesting nonetheless.