Best Windows 8 apps this week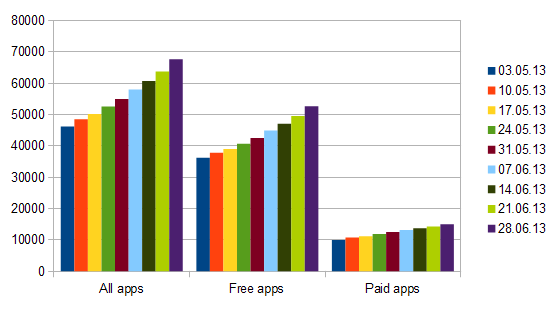 Thirty-fifth in a series.  Microsoft has released the preview of the upcoming Windows 8.1. With it came many changes to the operating system, application management and the store.
Some, like the ability to use smaller or larger tile sizes or the option to uninstall multiple apps at once, have been on the feature request list of many Windows 8 users.
Others, like the redesigned store or the inability to pin custom shortcuts to the start screen, will certainly draw criticism from some users of the system.
All applications created for Windows 8 are compatible with Windows 8, while apps created for Windows 8.1 cannot be used on a Windows 8 device.
If you have updated your system to Windows 8.1 or installed a copy of it in a virtual machine, you may have noticed that Microsoft updated all the  stock apps that ship with the operating system. On top of that, new apps are introduced that are not all displayed on the Start screen right away.
Alarms is a basic alarm clock, timer and stopwatch application.
Calculator, a basic calculator and unit converter.
Food & Drink offers access to recipes, keeps track of your shopping list and meal plans.
Health & Fitness keeps track of your diet and exercises, and provides you with information about drugs, symptoms and conditions.
Help & Tips is not yet implemented.
Reading List is a new read it later app. You can share articles from other applications with the app so that you can read them at a later time or use it for safe keeping.
Scan is a scanner application.
Sound Recorder is a copy of the default Windows sound recorder.
Microsoft has furthermore released the SkyDrive Pro application this week which users of Office 365 or SharePoint Online can make use of.
The overall application count increased by 3,875 apps this week to a total of 67,631 apps in the US Windows Store.
52,638 apps are free to download and install, an increase by 3,125 apps in the last seven days. 14,993 apps are available as paid apps only, up 750 apps this week. It is likely that the store will break the 70,000 apps mark in the next week.
App of the week Great British Chefs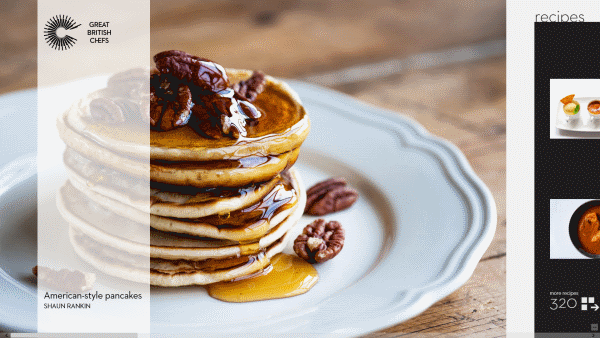 If you're thinking Gordon Ramsay I have to disappoint you now, as none of his recipes are listed in the application.
It features more than 300 recipes from British chefs that you can browse through in a variety of ways. One of the better ways is to use the recipe filter which sorts recipes by difficulty level. The majority of recipes fall in the easy category although there are more than a 100 that fall into the medium or challenging category instead.
Each recipe highlights the ingredients and equipment needed to create the dish, instructions on how to prepare it, and beautiful HD photos that accompany it.
One interesting option here is the ability to switch to cooking mode which not only comes with a timer but also with step by step instructions so that you can see exactly what you need to do right now.
There are more than 100 instructional videos included, from beating an egg over pan frying white fish, to opening oysters, or making foam with a gas canister.
The functionality does not end here though. You can create a shopping list by selecting recipes so that you know what you need to purchase to prepare the selected dishes, read food related articles that have been integrated into the app, or browse chef portraits.
Other apps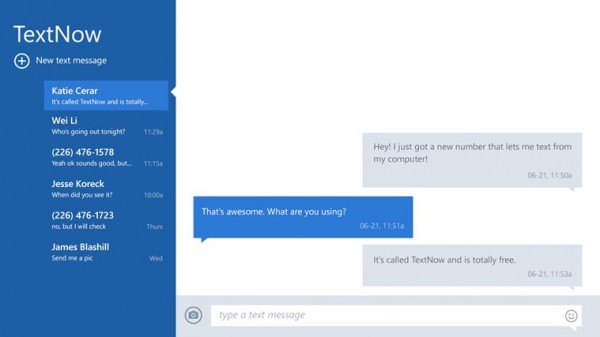 You may use the application to send and receive unlimited text messages within the USA and Canada free of charge.
First thing you need to do is create an account if you have not already. This is done by using Facebook or creating a custom account with the service directly.
You do get a TextNow phone number that your friends can use to text you, and you can text any phone in the US or Canada using the application as well.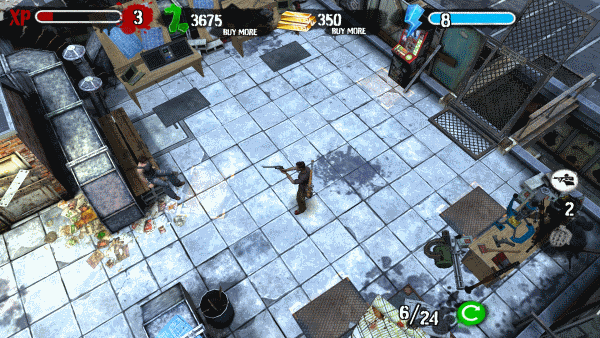 Zombie HQ is a third person action game that takes place right after a zombie apocalypse. You try to survive for as long as you can, by patrolling your area, scavenging, upgrading your equipment and exploring different parts of the city.
The game is fast paced with you controlling the main character via the WASD keys. You aim and shoot with the mouse, reload with R, and switch to your favorite melee weapon with Q.
You earn money while you are playing missions which you'll need to buy better weapons, upgrades and equipment.
The character gains experience with every mission which unlocks new areas in the city that you can explore.
Graphics are well done and the variety of missions as well as the upgrade system will keep you entertained for a while.
Note that the game offers in-app purchases and several limiting mechanics. You can for instance purchase Dollars and Gold, the two in-game currencies, in the store for real money so that you can make purchases in the in-game store.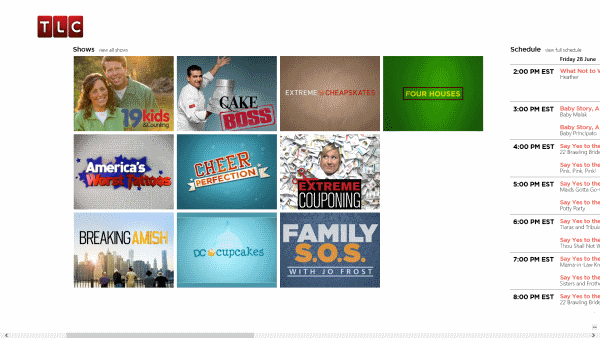 The official TLC application for Windows 8 offers access to full show episodes, a TV schedule so that you always know when the next episode of Long Island Medium, Cake Boss, or Say Yes to the Dress airs, and playlists that group together clips and episodes of the network's most popular shows.
What may be interesting is that the application is not fully country-locked, so that you can watch at least some shows and clips even if you live in a country where TLC is not available.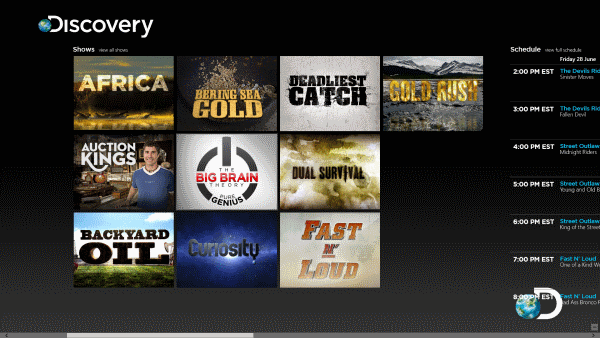 This is the official Discovery Channel application for Windows 8. It offers the same functionality as the TLC application, unsurprising considering that they have been released by the same publisher.
You can watch clips and full episodes right from within the application, check out the schedule for the coming week, or enjoy playlists that have been created for you.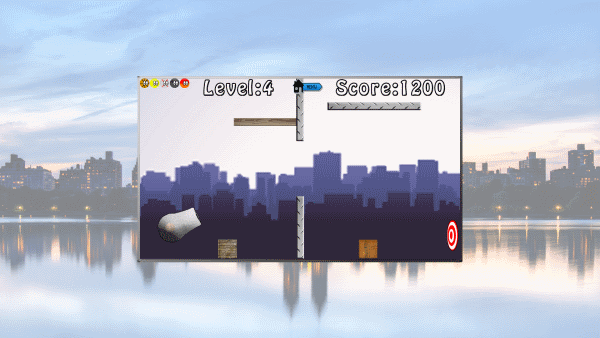 The core game mechanics are similar to Angry Birds. Your goal in each level is to shoot  a ball so that it hits the target in that level. So, instead of demolishing buildings on the map, you simply have to find the best angle to shoot the ball.
This may sound easy, and it is at first, but it quickly becomes difficult when objects are placed in the way that you need to get around somehow.
The game may not have the prettiest of graphics but it is fun to play nevertheless.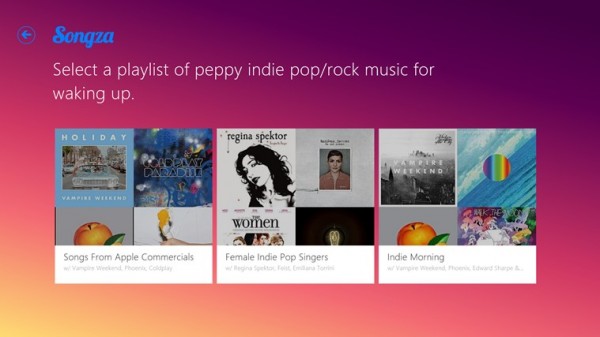 The application made an appearance this week in the Windows Store. Note that it is currently limiting access to users from the US and Canada. If you are connecting from a different country you won't be able to sign up or use the service.
You can use the application to stream custom music playlists or, use the music concierge to find music that is right for you.
This can for instance be work related music that comes without lyrics, songs for the shower, or gently waking up.
You do need to create an account before you can use the application.