Microsoft offers preview of new Lumia 1020 ad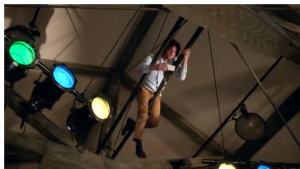 Back in April, Microsoft released a Windows Phone 'wedding' ad that may have finally brought the tech giant out of the advertising dog house it has been in -- remember Bill Gates and Jerry Seinfeld? Now the company follows it up with a brand new offering, depicting a children's recital that takes a turn for the worse.
Without giving too much of a spoiler, and I honestly can't because this needs to be seen to be appreciated, the ad contains a scene of a recital that, in 30-seconds, goes from opening curtain to total destruction.
As chaos breaks out, and parents begin scrambling to grab the best photos, using iPads, iPhones and Android, the scene slowly reduces to one couple, seated at the back looking quite calm because they never had to move to grab their clear close-up shot of the stage by using the new Nokia Lumia 1020.
Microsft's Michael Stroh informs that "today we wanted to share a sneak peak of our latest spot, 'The Recital'. Set to air during MTV's Video Music Awards this Sunday, the ad features the same director (Roman Coppola) and zany actors". You can watch the video below.