Evernote for Windows Phone 8 gets even better with the latest update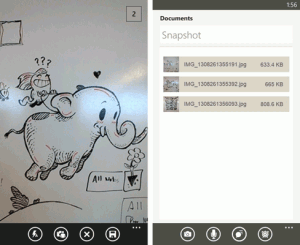 As some of you may know, Evernote is my favorite note-taking app. And, there is a very good reason for that -- the cloud-based service is available for all major mobile platforms through their respective app stores, making it easy to use, regardless of which operating system I may favor at the time. This makes it particularly handy when I'm jotting down ideas for upcoming stories on my Windows Phone 8 smartphone, but wish to look into them further on my laptop, which runs Windows 8, or straight on the web.
Another good reason as to why Evernote is at the top of my note-taking app list is the ongoing commitment for Windows Phone 8. New versions are rolled out regularly for the tiled handset OS, introducing new features and improvements at a steady pace. And the latest iteration that was released late-yesterday, brings yet another batch of goodies, including speech-to-text support.
Speech-to-text notes can be recorded by powering up Evernote, and tapping on the adjacent controls afterwards. The app will keep a carbon copy of the recorded audio file, alongside the transcribed text. OneNote, Microsoft's built-in note-taking app for Windows Phone 8, only offers voice recording, but comes with voice-command support through Windows Phone 8, the latter of which is not included in the latest Evernote build.
The new Evernote Windows Phone 8 app allows users to snap and attach multiple pics to notes. The photos can be viewed and removed individually after adding them. To complement this feature, the app also lets users view slideshows, which are rendered from the attached pics.
And to help you distinguish between unnamed notes, Evernote for Windows Phone 8 now automatically adds a title to all notes. The name is determined based on location, content and calendar events -- "if you're taking a note during a meeting, the meeting name will become the title of the note. If Evernote doesn't have a meeting to go off of, the app will use the city that you're in", says Evernote's Andrew Sinkov. Other changes include Windows Phone 8 support with improved performance and navigation.
Evernote is available to download from Windows Phone Store.