SkyDrive can now 'read' your photos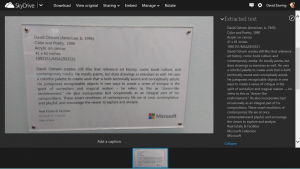 Microsoft has been busy beefing up SkyDrive this week, first with added storage for Pro accounts, bumping them to 25 GB free, and now with optical character recognition. OCR is generally a desktop software associated with scanners and used to translate copied documents into editable pages.
Now Microsoft wishes to bring that same functionality to the web, built right into its cloud storage service. "Today, in partnership with the Bing team, we're excited to release the first of several features that will make your SkyDrive photos smarter by using OCR  to extract the text from photos in your camera roll when you view them on SkyDrive.com", says company representative Mona Akmal.
With this new SkyDrive release, the Bing OCR tool will automatically run on your camera roll photos so you can instantly see the extracted text whenever you view your photos on SkyDrive.com, including your Windows Phone.
The feature is available in English, Portuguese, Spanish, French, and German. Regardless of your country, if your browser language is set to one of these tongues, then SkyDrive will attempt to run OCR on the images.
Photos have been one of the most targeted areas in SkyDrive, with Microsoft actively improving functionality on a regular basis. This makes it easier for customers of the company's mobile OS to show off the latest family pictures no matter where they travel, and now easily work with photographed documents.