Bitdefender Antivirus Free adds Windows 8.1 support, squashes bugs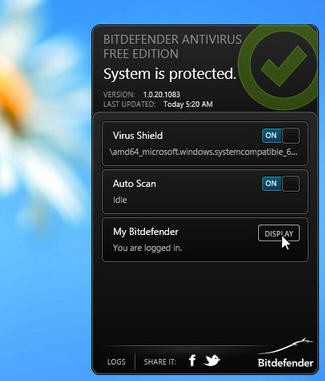 Anti-malware developer Bitdefender has released Bitdefender Antivirus Free Edition 1.0.20, a minor refresh of its free Windows anti-malware tool. Version 1.0.20 is notable for adding support for the upcoming Windows 8.1 release, due October 18.
Version 1.0.20 also squashes a few bugs and improves compatibility with Outpost Firewall Pro 8.1 too, resolving an issue with slow boot when both apps were installed alongside each other.
The major reason for updating Bitdefender Antivirus Free Edition is support for the upcoming Windows 8.1 release, which will be a free update for existing Windows 8 users. However, there are a number of minor bug fixes that make the update worth pursuing for all users of the software.
First, two fixes resolve issues with Refresh time in Threat Control and an "access denied" error appearing for read-only items when attempting to delete all quarantined files. Threat Control is Bitdefender's Quarantine window, and is the place to go for detailed analysis of any threats found during a scan.
The update now also excludes false positives and keeps blocking infected mail archives after performing an auto-scan of the Quarantine.
Bitdefender Antivirus Free Edition 1.0.20.1083 is available now as a freeware download for PCs running Windows XP or later with the latest Service Packs installed.
For even better protection, check out the Downloadcrew Software Store, where paid-for versions of Bitdefender products can be purchased with discounts of over 60 per cent available.