Nest Protect -- a Wi-Fi smoke and carbon monoxide detector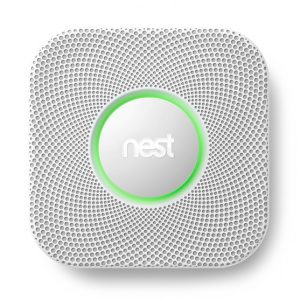 When it comes to fire, you can never be too safe. Sadly, I know all too well. You see, I once lived through a fire that destroyed my apartment and all of my belongings. While it was a devastating event, I came out of it uninjured and with a new respect for fire safety.
Today, Nest announces a new product that combines technology with not only fire safety but carbon monoxide protection too.
"Safety shouldn't be annoying...it was unacceptable to us that almost two-thirds of home fire deaths resulted from fires in properties without working smoke alarms. These products are required by law and are supposed to keep us safe, yet people hate them. We wanted to change that, so we created Nest Protect: Smoke + Carbon Monoxide", says Matt Rogers, Nest founder and vice president of engineering".
Founder and CEO Tony Fadell says, "the Nest Protect smoke and carbon monoxide (CO) alarm was born one night when I lay in bed, sleepless as usual, watching the smoke alarm blink. It blinked and blinked and I realized I had no idea what that meant. Was it working? Broken? Was it going to wake me up with low-battery chirps? Or go off for no reason? The smoke alarm was a black box painted beige. I trusted it with the safety of my family, but my first instinct was to tear it off the ceiling every time it made a noise".
The company highlights the following features of the product:
High-quality smoke and carbon monoxide alarm -- Nest Protect is a multi-criteria detector with heat, CO, and smoke sensors that work together to detect danger.
Heads-Up -- If Nest Protect sees that smoke or CO levels are rising but have not yet reached emergency alarm levels, it will give you an early warning so it can avoid crying wolf.
Nest Wave -- No need to wave towels or climb on chairs. Nest Protect lets you silence nuisance alarms with a wave of your hand.
Mobile notifications -- Connect Nest Protect to your free Nest account using Wi-Fi and you can receive low-battery alerts, Heads Up and emergency alarm notifications on your smartphone or tablet. In an emergency, the What to Do feature will remind you of recommended actions and give you one-button access to an emergency phone number.
Nightly Promise -- Sleep safe and sound. Before you doze off, Nest Protect shows you its sensors and batteries are working with a quick green glow after you turn off the lights so low-battery chirps don't rattle your dreams.
Pathlight -- Nest Protect offers more than just smoke and CO warnings. Its LED lights can be a night light in your home. When it's dark, Nest Protect will light your way as you walk underneath it.
Vocal alarm --  According to a study by Victoria University, children can sleep through beeping smoke alarms. So in addition to alarm sounds, Nest Protect uses female Voice Alarms to help wake sleeping children in case of emergency.
More sensors, more features -- Nest Protect's sensors include a photoelectric smoke sensor, CO sensor, heat sensor, light sensor, ultrasonic sensors and activity sensor. Together, they analyze smoke and CO levels, see when you wave, and light your way at night.
Wireless interconnect -- If you have more than one Nest Protect, they connect so you'll hear alarms from all Nest Protects in your home, even if the danger is in only one room.
Design -- Nest Protect introduces a distinctive square shape with a white sunflower pattern. A black version will be available only at www.nest.com.
Multiple languages -- In the US, Nest Protect offers voice alerts in both English and Spanish. Simply select your preferred language during setup.
While owning the Nest Thermostat is not required for the Nest Protect to function, there is an added benefit to having both. The company explains "if Nest Protect's carbon monoxide alarm goes off, your Nest thermostat automatically turns off your gas furnace, a possible source of poisonous carbon monoxide leaks. In addition, the Nest Protect activity sensors improve the Auto-Away feature of your Nest thermostat".
The Nest Protect can interface with mobile devices; both Android and iOS are supported. Sadly, but as expected, Windows Phone users are shut-out once again. Of course, you can also interface by web browser.
Overall, this is appears to be a great product that should save lives. While the $129.99 price seems reasonable at first, please remember that you will likely need more than one to properly protect your home (unless you are in a studio apartment). This can be very costly, especially if you buy the Nest Thermostat to take full advantage of the features. However, can you really put a price tag on you and your family's lives?