Microsoft details its creative apps ahead of the Windows 8.1 launch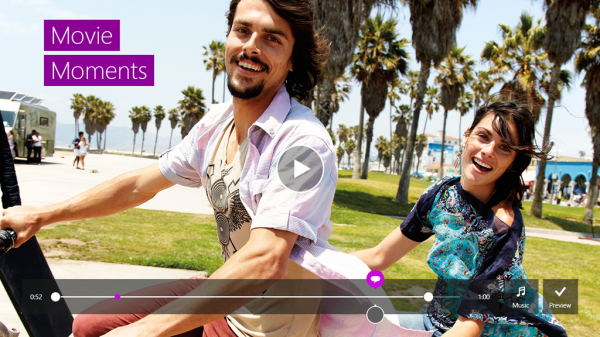 With the October 17 public launch rapidly approaching, Microsoft is trying to pique consumers' interest (even further) in Windows 8.1 by revealing a number of the biggest new features and app improvements that the new release introduces. The software giant has already discussed the new Internet Explorer, Reading List, SkyDrive and Skype and, in the latest unveiling, the company is taking us through the new apps for music, photos and videos.
When Windows 8 arrived, many of the built-in apps were criticised for being buggy, incomplete or difficult to use. A number of updates have slowly improved the situation. And in Windows 8.1 Microsoft appears to have beefed up its offerings even further.
Music
The company says that it has taken user feedback into account when developing the new Xbox Music app, resulting in a more useful tablet-friendly UI and other noteworthy improvements.
Microsoft has changed the "dull grey spreadsheet views" to a "beautiful grid view of album and artist art", improved the playlist visibility, adjusted the snap view to match the multitasking changes in Windows 8.1 and introduced support for music from SD cards.
Photos
Microsoft is hoping that the Windows 8.1 Photos app will be your go-to offering for managing pictures. There are new basic editing tools, which work with both on-device and SkyDrive content, that allow users to easily alter a photo with one-tap auto-fixes, change the brightness, hue, saturation and remove blemishes, among others. There is also a mode that enhances individual colors.
Videos
Alongside Fresh Paint, that my colleague Brian Fagioli wrote about previously, Microsoft also offers Movie Moments to Windows 8.1 users, as a separate app. This will be available in Store following the operating system's public launch.
Movie Moments, as the name suggests, gives users the option to add a personal touch to videos by allowing them to add captions, use a specific soundtrack (a song that they like, for example), trim content and, of course, share the final result.
Better Apps?
Microsoft has made considerable efforts to improve the apps that Windows 8.1 ships with, over their Windows 8 counterparts. The new music, photo and video apps are definitely a step in the right direction, and will likely trigger a slight growth in the Modern UI app usage and make the platform more pleasant and suitable to use on tablets.