Protect your passwords from keyloggers with Oxynger KeyShield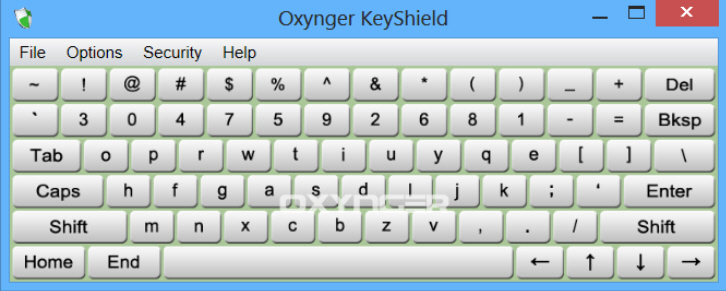 Following good password policy is a key part of staying safe online. You should be using lengthy passwords, for example, with mixed case, numbers and special characters, as well as ensuring you use a different password on every site.
All of this will be entirely useless, of course, if your system has a keylogger which is recording everything you type. Your antivirus package should detect and block any attempt to install one, but if you'd like an extra layer of protection then Oxynger KeyShield could be very interesting.
The program is essentially just a virtual keyboard; launch it, type your details, and they're sent to the application by what the authors call a "very secure communication channel", which they claim keyloggers won't be able to intercept. It would take considerable time and low-level testing to decide the truth of that, but the program did manage to evade two commercial keyloggers we tried, which is a good start.
Some malware might record your mouse movements, too, and try to figure out the password from those. Oxynger KeyShield protects you from that danger by using a random keyboard layout each time. This also makes typing rather slow, as you must hunt for each letter, but if that's an issue then you can always turn the option off.
Could a malicious program capture images of the KeyShield window, as you click? No, or at least, not easily. We tried Alt+PrtSc and several screen grab programs, and in each case the window was just black, no detail at all. (The only way we could get an image for this page was to copy it from the Oxynger website).
Surprisingly, Oxynger KeyShield can even protect you from "shoulder surfers", people who stand nearby and read your details as you enter them. In a click or two you're able to reduce the size of the keys, and change the mouse cursor to a near invisible black dot; factor in the random keyboard layout as well, and it's hard to imagine anyone figuring out what you're entering.
We're not quite sure how reliable all this protection might be. Sure, the KeyShield window couldn't be captured by regular screen grab tools, but that doesn't mean there isn't another tool or technique which can do it.
Oxynger KeyShield will keep you safe from at least some potential threats, though, and the "shoulder surfing" protection could make the program worth installing, all on its own. Take a look.