Logitech releases an onslaught of iPad Air cases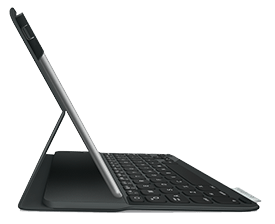 I have been having a great time using the Surface 2 in my "all-in on Microsoft" experiment. Microsoft's tablet works great on its own, but the keyboard accessories (Touch 2 and Type 2 covers) enhance the overall functionality. While the iPad is a great tablet too, Apple simply does not provide a physical mobile keyboard solution. Instead, the iPad community relies on third-party offerings to supplement the deficiencies of the Apple tablet in this regard.
While third-party accessories can be hit-or-miss, Apple fans need not worry; Logitech has their back. Yes, the renowned manufacturer has been making Apple accessories for many years. Today, the company announces four new cases for the recently announced iPad Air -- three of which are keyboard-variants.
Logitech says that the new cases "perfectly complement the thin and light design of Apple's newest iPad Air while providing protection for it. Taking a page from the designs that made Logitech the number one selling keyboard brand for the iPad, the Logitech FabricSkin Keyboard Folio, Logitech Ultrathin Keyboard Cover, Logitech Ultrathin Keyboard Folio and Logitech Folio Protective Case for the iPad Air give you four new ways to protect your tablet".
"The three keyboard products each feature a built-in Bluetooth keyboard with maximized key size for a fast and fluid typing experience. The Logitech Folio Protective Case offers tablet protection without a keyboard, and is Logitech's thinnest and lightest folio for the iPad Air. It has a water-repellent skin for two-sided protection against bumps, scratches sand spills, and doubles as a stand, adapting to hold your tablet at the right angle for reading, viewing or playing games", says the manufacturer.
While all four look great, I think the FabricSkin looks the best. My colleague Scott Alperin reviewed the previous generation of this case and recommended it for people that need an iPad keyboard. It looks dead sexy and it makes me consider buying the new iPad Air.
What do you think? If you are going to buy the iPad Air, would you consider one of these cases? Tell me in the comments.