Amazon Cloud Player comes to Mac platform, joins Windows, iOS and Android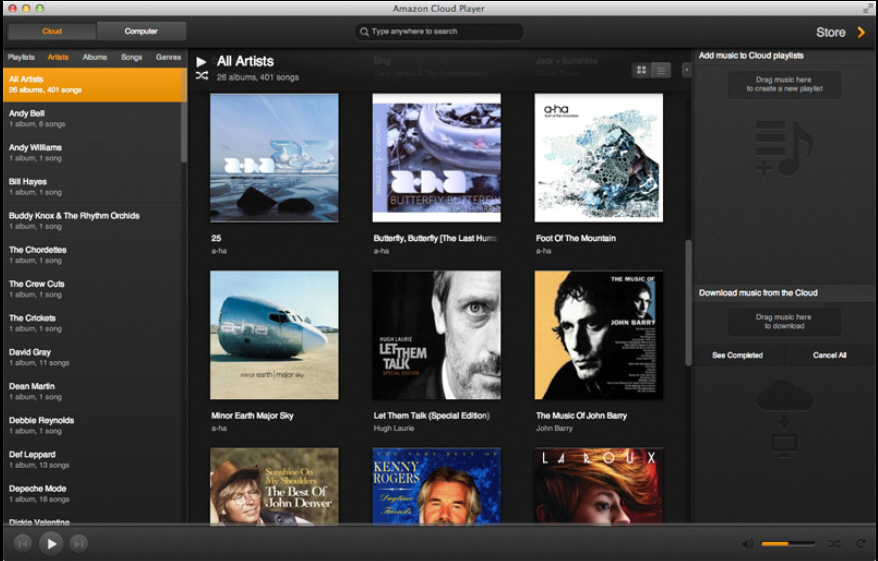 Amazon has continued to roll out its Cloud Player application with the release of Amazon Cloud Player for Mac 2.0 (despite the version number, this is the first release on the Mac platform). The new player is practically identical to the Windows build, which debuted in May.
Amazon Cloud Player, also available for iOS and Android, allows Amazon users to access all music stored in its Cloud Player service.
Cloud Player works in conjunction with the user's Amazon account to give them online access to music they've previously purchased through Amazon, either as a MP3 or selected physical purchases where AutoRip is supported, which provides the user with digital copies of the physical CD or vinyl album in question.
Amazon Cloud Player for Mac works in identical fashion to the Windows build, in providing users with access to music stored in the cloud as well as supported local libraries (including iTunes and Windows Media Player) via a dedicated app as opposed to their web browser. It's basically a music player with additional management capabilities -- users can build cloud playlists, download tracks to the computer for offline listening and browse for music through the Amazon store.
One feature missing from the app is the ability to import locally stored songs into the user's cloud account; instead, the option simply redirects the user to their web browser to select songs for uploading. Free accounts support up to 250 cloud-hosted songs in addition to previous purchases; users can also purchase an annual pass ($24.99) that allows them to store up to 250,000 songs online.
Amazon Cloud Player for Mac 2.0 is available now as a freeware download for Amazon account holders running OS X 10.6 or later. Also available are Amazon Cloud Player for Windows 1.5, Amazon Cloud Player 2.1.0 for iOS and Amazon MP3 2.8.1 for Android. Other supported platforms include Samsung TV, Roku, Sonos and web browser.