Cray targets the big data storage market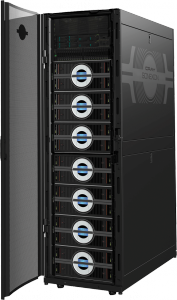 Cray is a business best known for its supercomputers, though 10 percent of its revenue in 2012 came from providing storage. But in the world of big data there's often a requirement to match high performance computing with an effective archiving solution and the company is after a slice of that pie.
With Cray's new Tiered Adaptive Storage (TAS) product it offers a complete solution that includes all of the software and hardware, and eliminates the complexities associated with planning, designing and building large-scale storage archives.
TAS ensures data protection and accessibility at a large scale and during upgrades. The latter is an essential feature since in most organizations the lifespan of data typically exceeds the useful life of the storage infrastructure. It can be configured as a primary file storage system with tiers, as well as a persistent storage archive. and provides transparent data migration across storage tiers. TAS can have up to four flexible storage tiers mixing media, solid state drive, disk or tape and simplifies storage management with easy-to-use operator commands.
"Our new data management product gives supercomputing and Big Data customers the ability to more effectively access, manage, and preserve their exponentially increasing amounts of data," says Barry Bolding, Cray's vice president of storage and data management. "Today, Cray is at the forefront of scalable, parallel file system storage. With the launch of Cray TAS, we now have a complete tiered storage and archiving solution that combines our scaling expertise with proven block storage and tape technologies".
Thanks to Cray's recent investment in Versity Software, TAS has been able to incorporate Versity Storage Manager with its advanced, standards-based software architecture capable of supporting virtually unlimited archive sizes.
TAS is the latest addition to Cray's portfolio of storage and data management products which include ClusterConnect for x86 Linux systems and the Sonexian storage appliance that can provide performance scaling from gigabytes to terabytes per second in a single file system.
Cray TAS will be on display at the 2013 Supercomputing Conference held November 17-22 in Denver, Colorado or you can find out more now on the Cray website.