Android Christmas tree ornaments go on sale -- quickly out of stock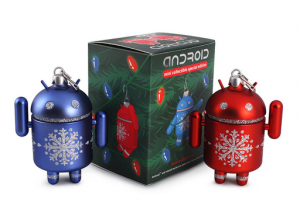 I swear, I'm not an Android "fan-boy"; I am not committed to any platform. However, I am a fan-boy of something -- technology. When the first generation of Android collectibles were released, I snatched them up because they were technology collectibles. They are cute and make great conversation pieces. Quite frankly, it is probably as close to art as I will get. I have since collected about thirty of the little figurines.
Every once in a while, the official retailer, Dead Zebra, will sell limited editions of the Androids that sell out pretty fast. A few days ago, I caught wind that limited-edition Android Christmas ornaments would be released on December 10th at 11am. I created a calendar reminder in Outlook to be sure I wouldn't miss out. However, ordering them proved rather difficult.
Dead Zebra suggests that customers "create an account and be logged in before the release, that way all of your  address information will be pre-filled in and ready to go". I took that advice and did so about 15-minutes before sale time. However, the moment the ornaments went on sale, the website crashed. There were likely thousands of nerds just like me trying to do the same thing.
While I could have given up, I decided not to. Christmas is one of my favorite holidays and my tree had to have these ornaments! I decided to refresh like a madman until the page loaded. Like magic, the site ultimately appeared. Dead Zebra was selling two variants -- a red and a blue one and of course, I needed both. I added the red one to my cart, but when I went to add the other, it crashed again. Feeling afraid I would lose the red one, I checked out and ordered it on its own.
Now that I had secured the red one, the blue was in my sights. I again kept refreshing and once again, the page loaded and I got my chance. I added the blue variant to my cart and successfully checked out. Woo-hoo, I got both! Shortly after this, they both sold out.
Now, I usually don't write about my shopping experiences, but I found this one to be particularly interesting. Based on market-share, we know Android owners are extremely abundant, but this shows that they are passionate about the operating system too. The entire website collapsed under the load of nerds buying a plastic tchotchke -- what other operating system can cause such a frenzy?
If you are still interested, Dead Zebra chose to hold a small amount back for sale at 11pm tonight. If you want one, you'd better be quick and read the FAQ here.