Geo-Tag Mapper plots geotagged photos on an interactive globe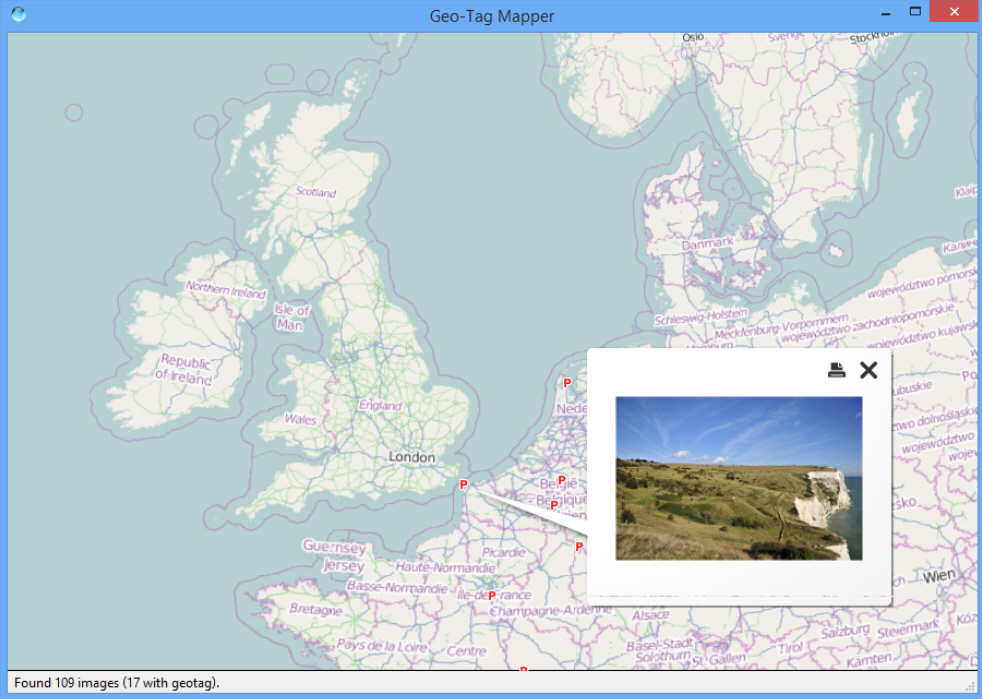 Geotagging photographs sounds great, at least in theory. You buy a camera with GPS, and it records exactly where you take every picture, very useful when you'd like to return there later (or just if you've just forgotten where you saw that amazing sunset).
This isn't quite as easy as it should be, because most image viewers and graphics tools don't recognize or use positional data. There are some exceptions, though, and the latest, Geo-Tag Mapper, provides a very easy way to visualize your photos by their location.
The program download is also relatively large at 27MB, but that's mostly because it's Qt-based; there's no adware here, no intrusive system components. It all installs quickly and without incident.
Operating the program is just as straightforward. Launch Geo-Tag Mapper, click Start, choose a folder containing your geotagged images, and it'll scan that complete folder tree. Within a few seconds Geo-Tag Mapper displays a globe, highlighting the position of each geotagged image with a letter "P". If you can't see all your photos -- or several are clustered together -- then click and drag to rotate the globe, or use the mouse wheel to zoom in and out (or use the cursor keys, with the plus and minus keys on the numeric keypad).
Once you've spotted a position of interest, click that "P" to display a preview of that image. You can continue to navigate around the globe while the preview is displayed, perhaps useful if you're taking a grab (the thumbnail will clearly point at the location where it was taken). Otherwise, close the preview image and check something else.
And right now, well, that's it. The program does nothing else, at all. You can't view a list of geotagged images. You can't view the positional data. You can't view pictures full-screen. It doesn't even show you the file name associated with each preview. Essentially it's a basic "proof of concept", and nothing more.
Despite all that, Geo-Tag Mapper may still be worth your time. Sure, the program only performs a single task right now, but it does that very well. This isn't a custom globe that someone's thrown together in five minutes, for example; the program uses KDE's Marble, so you can be sure it's going to deliver.
What's more, Geo-Tag Mapper isn't just another small personal project by a random SourceForge member. The developer it-digin also produces some very sophisticated commercial AIS and GIS products, so it's possible -- even likely -- that the program will become much more capable in the future. One to watch.