HP unveils the best looking Chromebox yet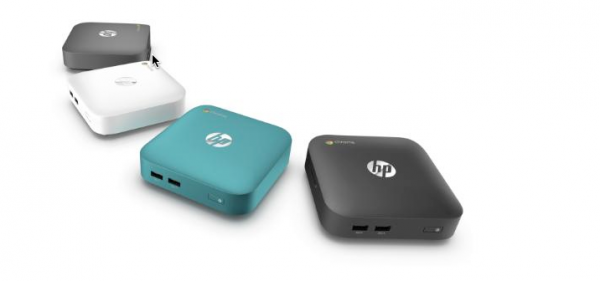 A couple days ago, Asus unveiled its Chromebox. At the time, I called it sexy. While it is still attractive, it has already been upstaged.
Yes, today, Hewlett Packard releases a sexier, rounder device that arguably makes Acer's look plain and tired. Sadly, price and full specs are not yet known.
"The HP Chromebox is easy to set up as a new or replacement desktop.  It works with standard keyboards, mice and displays, and offers connectivity using HDMI, DisplayPort and Bluetooth, along with four USB 3.0 ports. Like other Chrome devices from HP, the Chromebox offers a fast, easy and safe computing experience for you and your family", says Hewlett Packard.
The company further explains, "This device is designed to match your style. The compact Chromebox is available in a variety of colors -- Smoke Silver, Ocean Turquoise, Snow White and Twinkle Black -- allowing it to fit with your home or office décor. You can securely mount the Chromebox to your wall or to the back of your monitor using standard VESA mounts. This petite little package can also snugly fit into your home theater, and it's small enough to pop into a travel bag".
While this device is mainly geared towards home users, there will be an enterprise-focused Chromebox with Meetings version too. This special business model will come with an upgraded i7 processor and audio-visual hardware. This makes it ideal for video conferencing.
What color do you like best? Tell me in the comments. I personally love the Ocean Turquoise.