Samsung details Galaxy S5's new octa-core processor (Yes, there is one)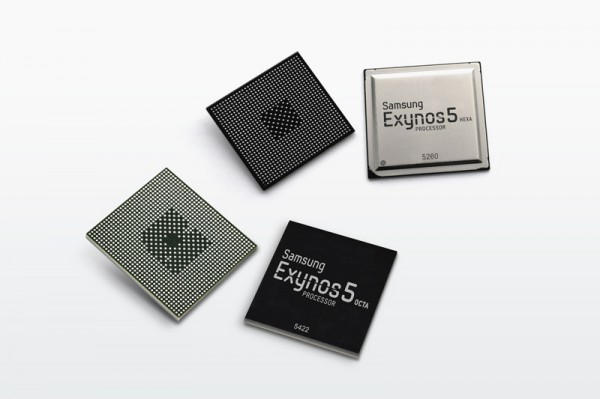 In keeping up with tradition, there will be two processors available in the Samsung Galaxy S5. The international version gets Qualcomm's quad-core Snapdragon 801, while another model -- that will most likely be available in non-LTE markets -- ships with the company's own octa-core Exynos chip, that Samsung just unveiled at MWC 2014.
Samsung is increasingly reliant on Qualcomm processors for its flagship Android devices, like the Galaxy S4, Galaxy Note 3 and, most recently, Galaxy S5, as the Exynos chips that arrived in 2013 have failed to live up to expectations. Even though those were octa-core designs, the Qualcomm-made, quad-core, solutions performed similarly and came with a very competent LTE modem as well. Samsung is not giving up (yet), as the new Exynos 5422 still aims to turn the tables in the company's favor.
The Exynos 5422 is not an octa-core processor in the traditional sense. It has eight cores, but, like its predecessors, four are designed to take heavy loads while the remaining ones handle lighter tasks. It is more of a four plus four chip.
The 28nm processor is comprised of four ARM Cortex A15 cores running at up to 2.1 GHz and four Cortex A7 cores with a maximum frequency of 1.5 GHz. Due to the new design, the Exynos 5422 is marketed with a 34 percent improvement in performance over the previous models.
Samsung's big.LITTLE HMP (Heterogeneous Multi Processing) implementation should give the maximum performance in any combination of up to eight cores, according to the data the company provided. There is support for panels with a resolution of 2560 by 1600 (and, lower), compressed display data, adaptive hibernation, as well as other new features.
Power consumption is estimated to be lower by 10 percent compared to "traditional" solutions, which will come in handy when power-hungry 2k displays arrive in smartphones and tablets.
A lesser version of the Exynos 5422, called Exynos Hexa, is set to power the Galaxy Note 3 Neo. The design is similar, but with two beefy cores running at 1.7 GHz, instead of four, and four slower ones clocked at 1.3 GHz.
Samsung says that the Exynos 5422 processor enters production in Q1 2014, but samples are available now. Presumably, it will be available in the Galaxy S5 since launch, which is set to happen in April.