Find out who's stealing your web content with Plagiarism Detector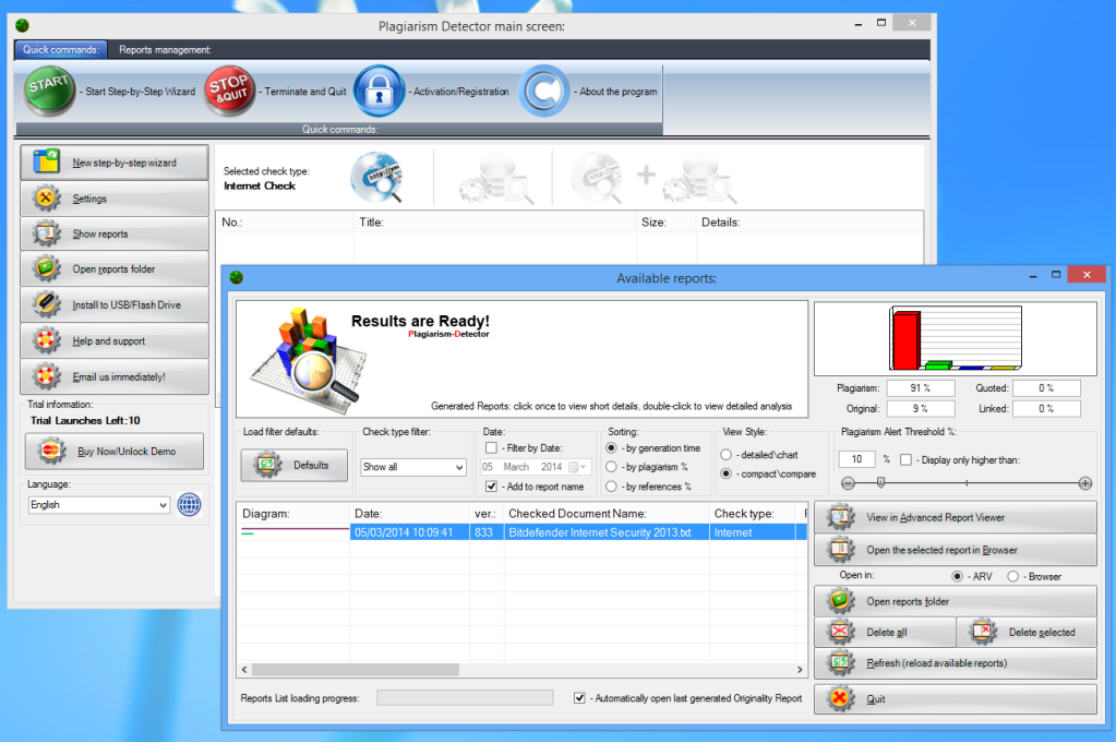 The web is an amazing tool for research, with a vast amount of information available on just about any topic you can imagine. Unfortunately, some people don't just learn from others: they'll directly copy vast amounts of content from a web resource, and try to pass it off as their own.
This can be an issue if you've created web content, and others are stealing it. Or you might like to know if a document submitted to you is original, or partly "recycled". Either way, Plagiarism Detector ($30) can help.
The program installs without issue, and getting started is as easy as choosing the document you'd like checked. There's support for reading PDF, HTML, TXT and RTF files, and if you have Microsoft Office installed then Word and PowerPoint documents can be accessed, too.
Whatever the document format, Plagiarism Detector opens it, extracts the text, and runs multiple searches on Google, Bing, and -- according to the developers -- AltaVista (presumably they now mean Yahoo).
If you think checking an entire document might take a while, then you're right. The Plagiarism Detector website claims the program "works fast", but we were left waiting for more than five minutes. It's worth the wait, though, as the final report is extremely detailed.
This opens with a summary of the program's findings. A "Detection Chart" shows the percentage of the document which has been found elsewhere, for instance, while a "Hot Flags" section lets you know if any text has been "borrowed" from common web sources (Wikipedia, Google Books).
A "Top 3 Plagiarized Sources" section lists the closest online matches for your document (click "Show other Sources" to see the top 15). These almost certainly won't be exactly the same as the original, so Plagiarism Detector displays the matching number of words and characters, useful in helping you figure out how similar they really are.
It may still be useful to see how any copied text is being used, of course, and clicking any of these source links will help you compare them. A window displays your original document on the left, the web page on the right, with any matching text highlighted. And so it's easy to see if, say, a site is quoting and referencing your work, or just blatantly stealing it.
Plagiarism Detector has a few issues, particularly with its interface. This seems horribly cluttered, with buttons and tables, sliders and graphs, labels and checkboxes everywhere. The developers try to paper over this with regular pop-up Help messages, but life would be easier if the interface was a little more streamlined in the first place.
The trial version has some limitations, too, which are listed as "600 initial words analysis only; partial plagiarism detection; some important results are excluded; no external file processing".
But despite this, the core of the program worked very well. We tested Plagiarism Detector with the text of an old review, and it correctly found and highlighted the original sites, as well as listing several others who had "recycled" big chunks of the text for their own purposes.
The Plagiarism Detector trial is worth installing, then, even if you're only casually interested in the technology. You don't have to register, it doesn't come with any other junk, and even with the trial restrictions, it's powerful enough to deliver useful results. Give it a try.