Motorola matters once again in Europe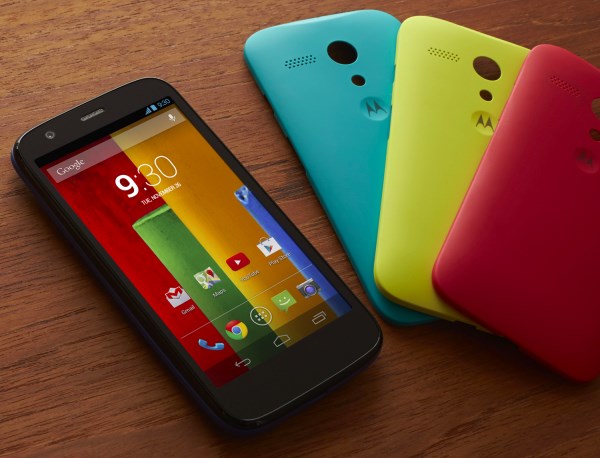 Before Motorola brought the Moto G and Moto X to Europe, the company's presence on the old continent was lackluster at best when it came to smartphones. The best consumers could get, and only in a small number of markets, was the dated Razr HD that seemed to be aimed solely at the brand's fans and keeping the Motorola name alive. The maker had thrown in the towel, trailing behind the likes of Apple and Samsung.
The Moto G and, later, the Moto X have put Motorola back on the smartphone map. "Motorola was nowhere in Europe before the Moto G launched in November last year, but the new model has since boosted the manufacturer to 6 percent of British sales", says Kantar Wordpanel ComTech strategic insight director Dominic Sunnebo. "It highlights the speed at which a quality budget phone can disrupt a market".
Due to its design, the Moto G is appealing to young smartphone buyers, mostly male, between the age of 16 and 24 in Britain, with a yearly income of less than £20,000, per the Kantar report. And, it is stealing sales from smartphones made by larger manufacturers, like Samsung (Android) and Nokia (Windows Phone).
"Consumers are far more tech savvy than they were just a few years ago and the rising commoditisation of smartphones means we increasingly rely on online views and handset cost to drive our decision making", says Sunnebo. "Some 40 percent of British consumers are heavily influenced by internet reviews when deciding which mobile to buy and 48 percent of Moto G sales were made online. With virtually no existing customers to sell to in Britain, the Moto G has stolen significant numbers of low-mid end customers from Samsung and Nokia Lumia".
Market Share Game
The Moto G and other Android smartphones have contributed to the growth of the platform in the five European markets monitored by the research firm -- France, Germany, Great Britain, Italy and Spain -- where it topped 68.9 percent market share in the three months ending February.
Android is the undisputed market leader, followed by Apple's iPhones with 19 percent and, in third place, Microsoft's Windows Phone with 9.7 percent. With the exception of iPhones, both Android and Windows Phone grew in market share compared to the same period of last year.
When we compare the latest numbers with the ones released by the research firm in February (for the three months ending January), we see Android gaining slightly (up from 68.6 percent), iPhones holding their ground, and Windows Phone slipping in market share (down from 10.1 percent).
Windows Phone broke the 10 percent milestone, but has been unable to keep the same momentum following the winter shopping season. Moto G's arrival explains it, in part. Apple has struggled as well to make iPhones more popular locally, and it seems its smartphones are faring quite well against the Android tide.
In Japan, the first two spots on the podium are reversed. The iPhones lead the market with a whopping 54.9 percent share (down from 68.7 percent in the three months ending January), followed by Android with 44.8 percent (up from 30.5 percent in the three months ending January). Windows Phone takes third place, but its 0.2 percent share (up from naught in the three months ending January) hardly makes it a relevant contender.
In the US, Android and iPhones dominate the market with a combined share of 89.7 percent (55 percent and 39.7 percent, respectively). Both showed slight variations from the numbers revealed for the three months ending January (54.8 percent and 38.9 percent, respectively). Windows Phone experienced a similar effect, growing to 5.3 percent from 5 percent.
In China things remain relatively the same as before. Compared to the three months ending January, Android grew to 80.9 percent from 80.3 percent, iPhones slipped to 17.4 percent from 17.9 percent and Windows Phone rose to one percent from 0.7 percent. It will be interesting to see the effect that the increased 4G availability, locally, will have over market share for both iPhones and Windows Phone.
In Australia, (again compared to the three months ending January) Android takes 58.5 percent of the market (up from 57.7 percent), iOS 33.9 percent (down from 35.1 percent) and Windows Phone 5 percent (down from 5.1 percent).