Pinnacle Studio 5 launches on iPhone, updated for iPad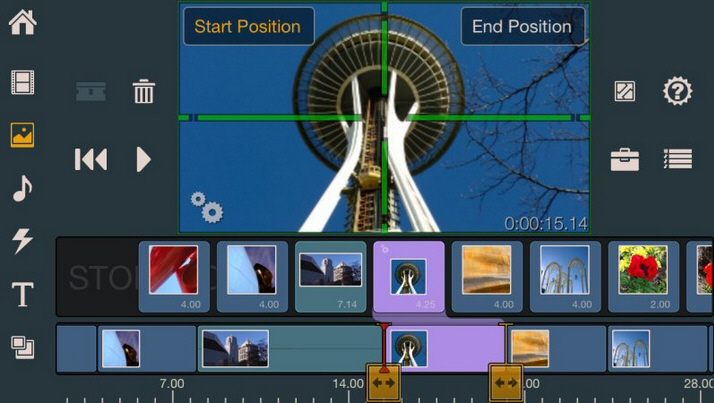 Corel subsidiary Pinnacle System has launched Pinnacle Studio for iPhone 5.0 alongside an updated Pinnacle Studio for iPad 5.0, which has been rebuilt with an iOS 7-themed interface and 64-bit support.
Pinnacle Studio for iPhone contains an identical feature-set to its bigger iPad brethren, explaining why its first release is version 5. Features include support for mixing video, audio and photos with Storyboard and Timeline editing features plus a wide range of tracks, effects and titles, plus 1080p HD video quality.
Users can mix and match multi-track video, photos and audio using the Storyboard for swiftly arranging clips and the Timeline, which supports precision editing and trimming. Like the iPad version, the app also supports montage templates for creating 3D animations, motion titles, transitions, picture-in-picture effects, fast and slow motion, and more.
Users can also combine up to three audio tracks -- including voiceover narration and a range of effects from a library of over 150 -- with AV sync, trim support, speed modification, setting levels and fade effects.
Finished video can be shared via YouTube, Facebook and Box, or exported to Pinnacle Studio on the iPad (which supports a wider range of online sharing services via an optional in-app purchase) and Windows.
At the same time as launching Pinnacle Studio for iPhone, Pinnacle has also released Pinnacle Studio for iPad 5.0, which has been rebuilt with an iOS 7-friendly design and support for 64-bit processing power.
The app now supports 24, 25 and 30fps projects, simple timeline clip duplication for title and PIP templates and the ability to rotate both photos and video.
Improved Speed Control makes it possible to adjust audio speed without affecting its pitch, while a new Jog Wheel on the preview window makes it possible to scrub video on a frame-by-frame basis.
Both Pinnacle Studio for iPhone 5.0 and Pinnacle Studio for iPad 5.0 are available separately now, for $9.99 and $12.99 respectively.