The most popular stories on BetaNews this past week: April 13 -- April 19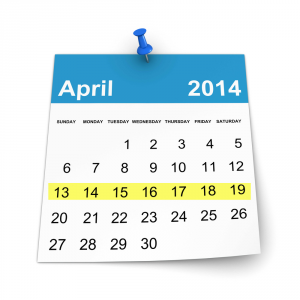 It's nearly a week since Microsoft ended support for Windows XP, but there are still around a quarter of Avast customers who plan on sticking with the old dog a little longer. What is perhaps more shocking is the revelation that over one fifth of those surveyed had no idea that support was coming to an end! For those living more on the cutting edge, good news came for Chrome users who found that their browser of choice gained support for Office Online. Microsoft may be leaving users of Windows XP out in the cold, but this is to be expected after so long. Users of Windows 8.1 who have opted to forego the pleasures of installing the recently released Update will find that their operating system is also not supported, as no further security updates will be made available until the confusingly named Update is used to update Windows 8.1 to Windows 8.1 Update. Got it? Good! Some business users who had trouble grabbing the download have been granted slightly longer.
Post Build, following Microsoft's announcements about universal apps for Windows 8.1 and Windows Phone, app prices are changing -- but consistency seems to be an issue. The hotly anticipated Windows Phone 8.1 was released to developers, but Mihaita was on hand with a guide that allows anyone to grab themselves a copy of the latest update. If you're on the lookout for a new Android handset, Joe puts forward a compelling argument in favor of the HTC One M8.
When it comes to home entertainment, around a tenth of people intend to "cut the cord" in the coming year. Comcast customers who are planning on going down this route will be heartened by the news that their ISP's speed tests have improved, making for a more enjoyable streaming experience. Roku fans have a new search tool to use on Android and iOS, and two new keyboards look set to make life easier for those with home theater setups. The Logitech Harmony Smart Keyboard now offers support for Amazon Fire TV, while Microsoft's All-in-One Media Keyboard makes light work of controlling media from the sofa.
Writing for websites opens one up to all manner of problems, but one of the most common is choosing between tailoring content for readers or for Google. I argue that it is readers who should be placed first, but there needs to be a much wider change in attitudes if writers are to cater to their audiences rather than bowing down to Google and bending to its every whim. The news was that Google is trying to coerce websites into using encryption by threatening lower searching ranking for those who don't. Misplaced power? You decide. Other Google news saw Gmail users gaining the ability to insert auto-backup photos into their emails.
The security world may have been abuzz about Heartbleed over the last couple of weeks, but the current trend for BYOD is also an on-going cause for concern. On the subject of Heartbleed, anonymizing web service Tor was still feeling the bite -- there are concerns that a large number of nodes that make up the network are running vulnerable versions of OpenSSL. Taking them offline would reduce the network in size by around 12 percent. If you're not concerned about security risks, Nokia Lumia 2520 have something else to worry about -- being shocked by their device's charger.
Earlier in the month there was outrage that Brendan Eich had been appointed as the CEO of Mozilla. His views on gay marriage meant that he was not destined to remain in the position for long. This week, a new interim CEO was put in place who will hopefully stick around for slightly longer. In similar news,  the appointment of Condoleezza Rice to the Dropbox board of directors caused something of a stir, and the cloud storage firm took steps to try to calm concerns raised by users. In rather less controversial news, Dropbox also expanded its operations into Asia Pacific.
Well, that's another week worked through. Enjoy Easter if that's your thing, and we'll see you next week for more of the same in the way of newsy goodness.
Image Credit: vinz89/Shutterstock