Spybot -- Search & Destroy adds notifications, improves scanner and startup tools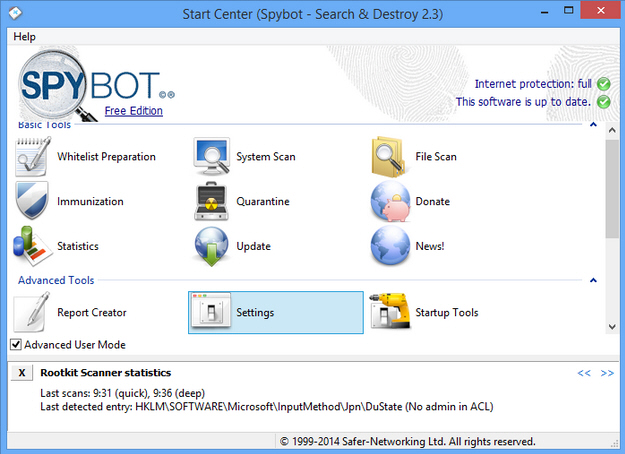 Irish security developer Safer Networking has released Spybot -- Search & Destroy 2.3, a minor -- but significant -- update to its Windows anti-malware tool.
The update debuts a brand new Notifications feature that allows users to receive scan results remotely, plus implements a number of improvements to scan performance as well as usability.
The main new feature in Spybot 2.3 is the Notifications tool. Accessible via the Settings button on the main Start Center, users should switch to the Notifications tab and click Edit… followed by Add… to set it up. From here users can choose one or multiple notification options, including Boxcar, email, Growl, Jabber and a HTTP push query.
The combination of options on offer allows users to receive notifications via mobile, chat, server or website as well as by the traditional means of the program's Notification area icon.
The new build also comes with the promise of improved accessibility, making selected features easier to access from the main user interface. The scanning engine has also been reworked to scan faster and automate certain cleaning tools.
Spybot 2.3′s detection methods have also been enhanced to combat the latest malware techniques, while the program's start-up tools have also been improved to work better with later versions of Windows -- one such example is the SDScan tool's ability to now run automatically with the required elevated privileges -- this means the user doesn't have to restart the tool or run the SDCleaner.
Spybot – Search & Destroy 2.3 is available now as a free-for-personal use download for PCs running Windows XP or later. Other paid-for editions are also available.