Mosamic creates gorgeous photo mosaics from Flickr images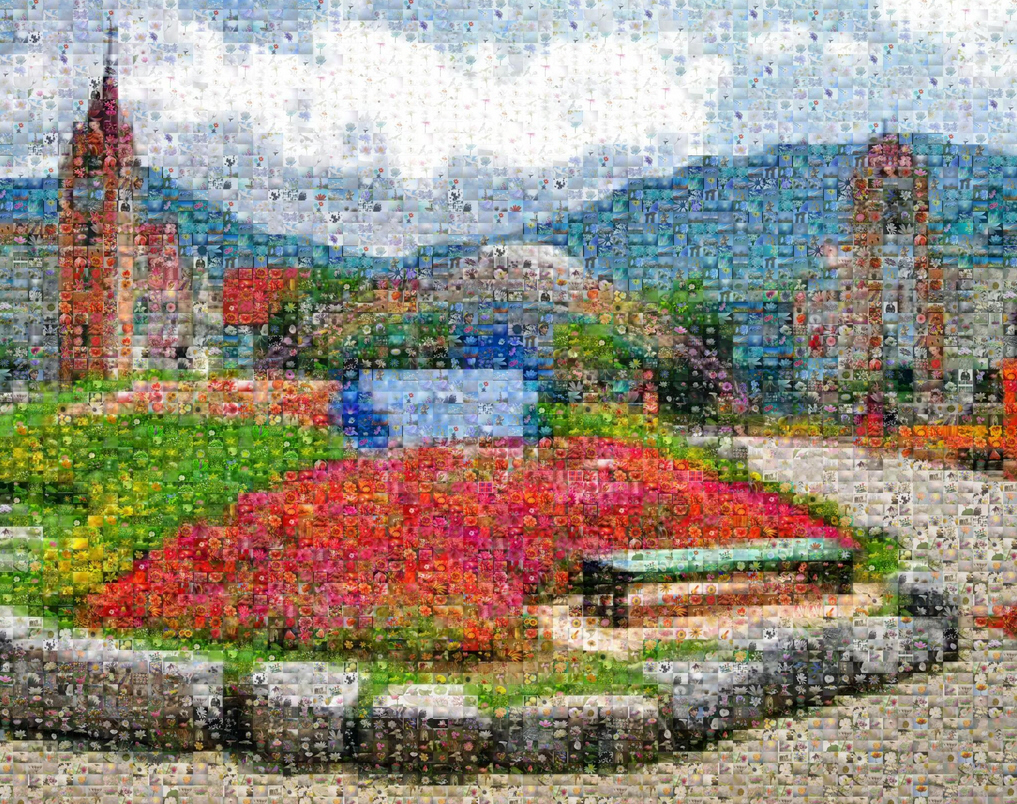 You might have taken some great digital photos, but they can always be made better, and one way is to transform them into a photo mosaic: a picture built from the color-matched thumbnails of other images.
This isn't always easy. As we've discussed before, AndreaMosaic is a very powerful mosaic creator, but with a complex interface which means it can be hard to follow. Fortunately there are simpler alternatives -- and Mosamic is one of the very best.
Just launch the program and its focus on ease of use is obvious. A tiny start screen presents you with four buttons; "Create a new mosaic" appears at the top, making it a very obvious choice, and clicking the button launches a wizard to walk you through the process.
This starts by choosing the image you'd like to convert into a mosaic, then your preferred mosaic type. Mosamic provides two options here. "Color Mosaic" fills each tile with solid colors, creating a pixelated effect -- not very interesting. "Photo Mosaic" is much better, as this builds the final picture with other images.
Click "Photo Mosaic" and you're able to choose the number of tiles to use. Mosamic draws a grid over the image representing the current tile size, and updates it as you drag a slider, helping you get a feel for how your setting will affect the final image.
If you know what you're doing then there are several "Advanced" settings to tweak, like whether tiles are allowed to appear twice in the same mosaic. In our experience these can be safely left alone -- the default settings are fine -- but they're here, if you need them.
The final step is to add the images which will be used to build the mosaic. Just as with similar tools, Mosamic can import the contents of a local folder. But more unusually, it can also run a Flickr search on your chosen keyword, and download up to 1,000 images (much faster than you'd think, as it only needs the thumbnails).
Once you've added to your tiles library, click "Create mosaic image" and Mosamic builds and displays the finished mosaic for you. If it doesn't look good, you can click "Back" and try again; otherwise you're able to save the results as a JPEG, PNG or XPM file.
Pros and cons
For us, Mosamic's highlight is its Flickr support. The most obvious benefit is that you don't need to have hundreds of local images available for mosaic building, any more -- you can just download pictures as necessary.
But it brings interesting artistic possibilities, too. If your source images has a largely blue/ yellow palette, for instance, it might be difficult to guarantee a good match from your own images. But if you run a Flickr search for "beach" then you should get better results and a more accurate mosaic. Or, if you like contrast, you might search for "forest" and see what the program can do when the palettes are very mismatched.
This does also highlight one weakness in the program. If we've downloaded 1,000 "beach" and 1,000 "forest" images then we'd like to be able to choose which set Mosamic uses to build our mosaic. But that isn't possible. All your search results are added to the "Tile Library", and Mosamic uses the entire library to create the final picture: there's no option to use "selected searches/ folders only".
If there's another issue here it's that you only get one mosaic pattern: a simple, rectangular grid. For all its complexities, AndreaMosaic's pattern and other options means it can deliver more appealing finished results.
For all that, Mosamic is still an excellent program, fast, free, easy to use and with time-saving Flickr integration. If you don't need the hassles of more complex mosaic builders then it's the perfect choice.