IcoFX adds three new adjustment tools, enhances crop selection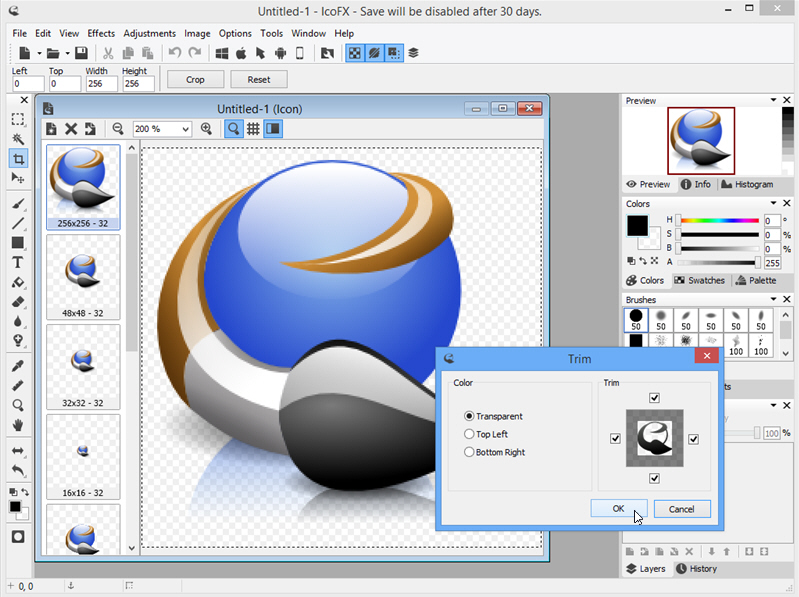 Romanian developer IcoFX Software has released IcoFX 2.7 and IcoFX Portable 2.7, a minor update to its commercial icon-editing tool for Windows.
Version 2.7 adds three new tools to the Adjustment menu, plus refines the existing crop tool. It also introduces two new options, a shortcut key for quickly deleting sections and fixes a number of known bugs.
Version 2.7 debuts a new Trim option -- accessible from the program's Adjustments menu. This allows users to trim the current icon using a combination of sides and colors. Also added to the Adjustment menu are new Replace Color and Replace Pixels options, which both offer real-time previews of changes made.
IcoFX 2.7 also debuts a subtly enhanced crop tool, which darkens the entire image apart from that subsequently selected by the user to aid them in more accurate selections.
Users can now also configure the corner radius when using the rounded rectangle tool, plus version 2.7 adds an option to reverse the gradient for both gradient and shape tools. Users also gain the ability to add helper lines to the grid. One final enhancement sees a new keyboard shortcut -- the [Delete] key -- being used to delete a selection.
Three notable bug fixes have been applied -- one that made an opened image not appear unless windows had been maximized, another that saw the Angle gradient having transparent pixels on Windows 8 machines and a final bug that saw the application occasionally crashing on being closed.
The update is rounded off with unspecified minor enhancements and further bug fixes. IcoFX 2.7 and IcoFX Portable 2.7 are both available now as a free 30-day trials for PCs running Windows XP or later. Licenses start from $29.99 for a single home license.