Protect your privacy with Self-Destructing Cookies for Firefox

Self-Destructing Cookies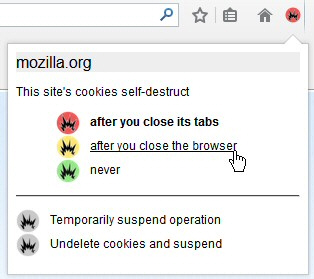 is a Firefox add-on which does a great job of controlling cookie use, without any of the complexity you'll see in other tools.
Install the add-on and it takes immediate effect, automatically deleting a site's regular cookies -- and its LocalStorage data -- just as soon as you close its tab.
Tracking cookies are removed immediately, based on their behavior (no bulky blacklist or endless updates required).
The add-on also deletes cookies after they've been unused for a specified period of time (10 seconds by default), so you have some protection even if you leave a tab open.
Cookies can be preserved for trusted sites by adding them to a whitelist. There's also an intermediate state where you can have any cookies preserved until Firefox is closed, so they'll be available if you revisit a site in the current session. Choosing either of these options takes a couple of clicks, but after that Self-Destructing Cookies just handles everything else itself.
If you do feel like exploring a little further, the Options dialog has some interesting settings. You can have your browser cached cleared automatically when the system has been idle for a specified number of minutes, for instance: a drastic step, but effective in blocking some tracking techniques.
An Undelete feature restores anything Self-Destructing Cookies has just removed, helpful if you find it's broken a site.
There are plenty of tweaks for its core features, too. You can decide to preserve LocalStorage data, keep tracking cookies, treat unused cookies differently, and more: whatever you need to get the add-on working with your favorite sites.
Put it all together and Self-Destructing Cookies works very well: it delivers good all-round protection with the minimum of effort, yet also has plenty of configuration options for those who need them. Try it.