ASUS unveils 'Strix' brand and devices -- R9 280, GTX 780 and Pro Gaming Headset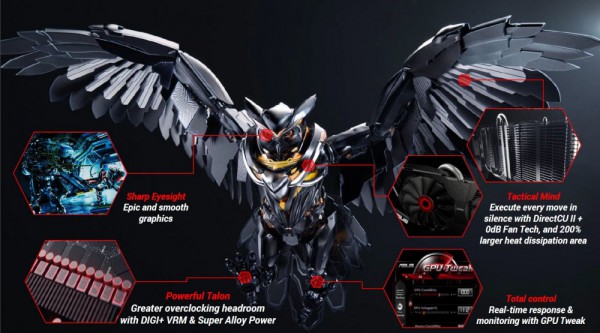 When it comes to computer building, Asus is one of the top brands; I am speaking from experience here. Building systems is one of my favorite hobbies and when selecting a motherboard or graphics card, Asus is always one of the brands at the top of my list. Of course, with great quality sometimes comes a high cost, but while Asus hardware sometimes costs more, I respect the adage of "you get what you pay for". I am willing to pay more for reliable, well-built components, whether it is Asus or other manufacturers.
Today however, Asus turns the volume up to 11 with a new gaming brand called Strix. What does "Strix" mean? The company says "taken from the ancient Roman and Greek word for owl, Strix means the keenest hearing and sharpest eyesight. Strix means feeling your environment so that you detect and react to the slightest movement. Strix means survival on the very edge of instinct. Strix is in your blood, as it is in ours". Deep stuff, bro. What does it mean to me? Kick-ass gaming hardware! Check this stuff out.
"The new Strix R9 280 and Strix GTX 780 graphics cards are packed with exclusive ASUS technologies, including DirectCU II that delivers cooler, quieter and faster performance for high-end action gaming and 0dB-cooling technology for lighter-gameplay sessions in total silence. The cards also feature exclusive ASUS DIGI+ voltage-regulation modules (VRMs) for superb efficiency and stability, and GPU Tweak for overclocking and online streaming that's as simple as it is flexible", says Asus.
The manufacturer further explains, "Strix R9 280 is fitted with 3GB of high-speed GDDR5 video memory and races along up to 980MHz, and Strix GTX 780 benefits from a boosted clock speed of 941MHz supported by 6GB of GDDR5 memory". Good lord, that is insanity.
Asus lists the following specs:
STRIX-GTX780-OC-6GD5
• NVIDIA GeForce GTX 780
• PCI Express 3.0
• 6GB GDDR5 memory
• 889MHz base clock speed
• 941MHz boosted speed
• 6008MHz memory clock
• 384-bit memory interface
• 1 x DVI-D output
• 1 x DVI-I output
• 1 x DisplayPort output
• 1 x HDMI output

STRIX-R9280-OC-3GD5
• AMD Radeon R9 280
• PCI Express 3.0
• 3GB GDDR5 memory
• 980MHz engine clock speed
• 5200MHz memory clock
• 384-bit memory interface
• 1 x DVI-D output
• 1 x DVI-I output
• 1 x DisplayPort output
• 1 x HDMI output
The company is not done there though; not at all. You see, also new is the Strix Pro headset, which the company describes as a "multi-platform gaming headset engineered with powerful 60mm neodymium-magnet drivers, full-size hexagonal ear cushions (130mm across at the widest point) and technology that filters our over 90 percent of environmental noise. Strix Pro is compatible with PCs, Macs, PlayStation 4 consoles and many smartphones and tablets".
The company is taking the "owl" thing so far, as to make the headset ear-pads look like an owl's eyes -- that is commitment.
Sadly, price for all of this new hardware is not yet released, but these graphics cards will likely be extremely expensive. The Nvidia card with 6GB of GDDR5 has me very intrigued, but scared of the price at the same time. The headset is also interesting -- I particularly like the USB connection and dedicated volume control.
Are you a hardcore gamer? Are you in love with the new Asus Strix brand? Tell me in the comments.