Ad-Aware Free Antivirus learns to plays nice with other antivirus tools, improves malware engine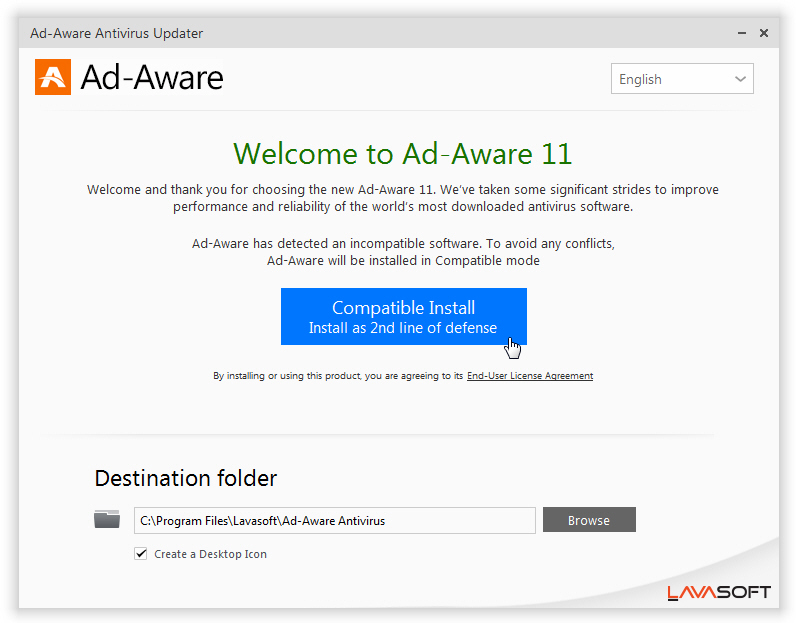 LavaSoft has released Ad-Aware Free Antivirus 11.2, a significant update to the Swedish security developer's range of free and paid-for PC security products.
Version 11.2 tweaks its malware engine and improves the disinfection process, but also introduces a new option that enables users to install it alongside existing security software.
The headline new feature in version 11.2 is Ad-Aware's new capability of being installed as additional protection alongside existing security suites. Lavasoft described the update as being "designed to address the growing trend and complexities of users running multiple security solutions in an effort to enhance their level of protection".
When users come to install Ad-Aware on their systems, the new, simplified installer will scan for existing security software -- if it's detected and deemed "incompatible", users will be given the option of choosing a Compatible Install mode, which basically installs Ad-Aware as a second line of defense by disabling its real-time protection. Users should then regularly run scans with the program to provide an extra layer of security.
The new build also comes with the promise of a more robust and efficient malware detection engine, better customer support options to simplify the collection of samples for analysis, an updated disinfection process and tweaked user interface.
Paid-for users gain additional benefits: both Pro and Total users gain the promise of improved email protection -- including a new email whitelist feature, plus updated anti-spam controls. Total users also gain a revamped parental control system, which has been developed in partnership with BluePrintData.
The update is rounded off with the usual collection of bug fixes. Ad-Aware Free Antivirus 11.2 is available now as a free-for-personal-use download for PCs running Windows XP SP3 or later. Paid-for editions are also available with additional protection features.