SecurityXploded releases Browser Password Remover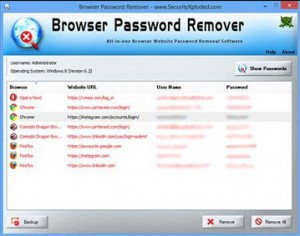 Utilities developer SecurityXploded has released Browser Password Remover, a free tool for managing stored passwords across a range of browsers (Firefox, Internet Explorer [v7.x -- v10.x], Google Chrome, Google Chrome Canary/SXS, CoolNovo, Opera, Comodo Dragon, SeaMonkey, SRWare Iron, Flock).
The program can be used as a simple password viewer. Launch it, click Show Passwords, and you'll see all stored credentials for every supported browser.
There's no check for password length or quality, but you can at least sort the list by password (just click the Password column header), helping you spot any duplicates.
A Backup button saves your password list as an HTML or plain text report for easy reference later.
Individual logons can be deleted by selecting them and clicking Remove.
Alternatively, if storing any passwords at all seems too much of a security risk, you can clear the full set by clicking "Remove All".
We spent a while playing around with the program to see what else it could do, with mildly disappointing results. Could we multi-select sites and remove just those, we wondered? No. Double-click a site to open it? No. Right-click a log-on for more options? No, of course not -- there are no other options.
Browser Password Remover works reasonably well as a browser password viewer, backup and deletion tool, though, and for version 1.0 that's probably enough.