Need access to your Mac drives in Windows 8? Paragon HFS+ for Windows 8/8.1 Free Edition does the job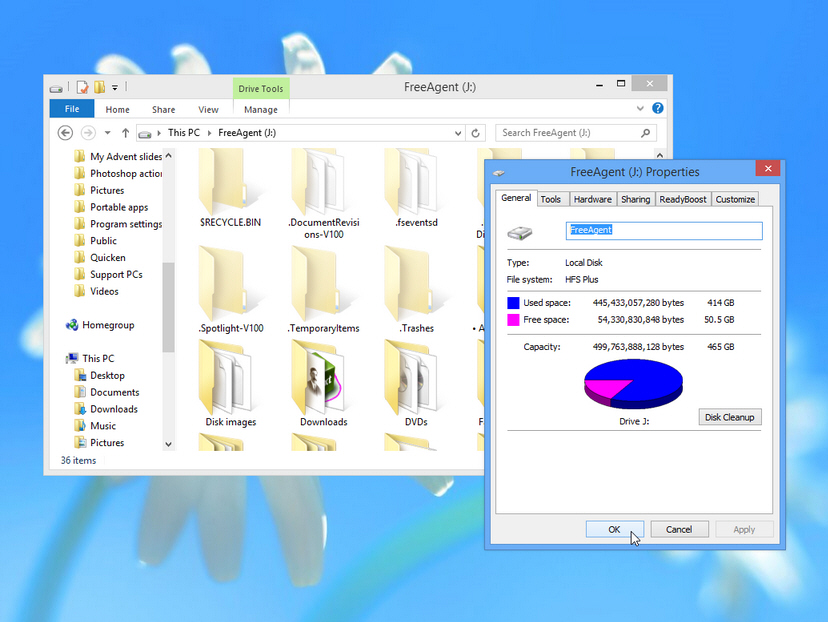 Are you a Mac user who's just installed Windows 8 alongside OS X via Boot Camp? Or perhaps you're a Windows user who's just been tasked with the job of getting data from (or to) a Mac-formatted hard drive. In either event, to get full access to your hard drive requires third-party help.
Previously, gaining full read and write access to a drive formatted using Apple's HFS+ file system would cost you money. If you're a Windows 8 user, however, then give thanks for the release of Paragon HFS+ for Windows 8/8.1 Free Edition 1.0.
As its title suggests, Paragon HFS+ is free -- for non-commercial use at any rate. Once downloaded, you'll steered towards a registration screen on the Paragon web site -- enter your details and you'll receive a product key and serial number via email that you'll need to paste into the setup program before it can be installed.
Before installing Paragon HFS+ however, hang fire a second: Paragon strongly recommends you temporarily disable Windows Fast Boot while installing it to prevent possible system file corruption. You can take your Windows installation into your own hands if you wish -- we installed it with Fast Boot enabled and no side-effects -- but disabling Fast Boot is a simple enough task.
To do so, open the Power Options Control Panel, then click "Choose what the power buttons do". Click "Change settings that are currently unavailable", scroll down and untick "Turn on fast startup", then click Save changes.
Now go ahead and install Paragon, then re-tick the box when you're done after the obligatory reboot.
So, what's next? Nothing, nada, zilch. That literally is it: once installed and rebooted, you can read and write data from and to your HFS+ drives, just like that. Performance isn't compromised either, with the driver delivering comparable speeds to other file systems, including exFAT and NTFS.
The major drawback is the tool is only for Windows 8 users only -- if you want full access from an older version of Windows, Paragon HFS+ for Windows 10 will set you back $19.95.
Paragon HFS+ for Windows 8/8.1 Free Edition 1.0 is available now as a free for personal use download for Windows 8 and 8.1.