SUPERAntiSpyware 6 reveals new System Investigator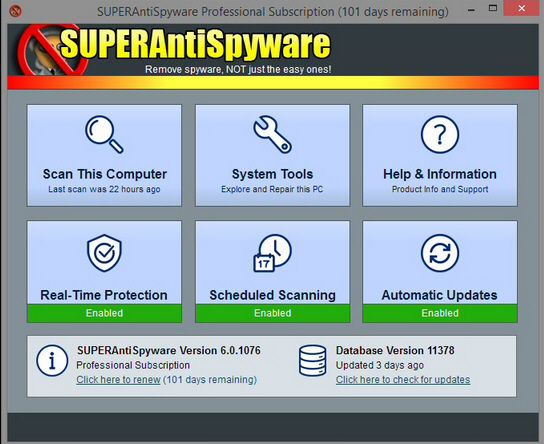 Support.com has updated its popular malware hunter SUPERAntiSpyware to version 6.0.
The major new feature is System Investigator, a tool which highlights files of interest in the most common infection points: startup programs, browser extensions, installed applications, Windows services, drivers, temporary and system folders, scheduled tasks, and more.
Everything System Investigator finds on your system is checked against SUPERAntiSpyware's whitelist database, before being separated into "Known Good" and "Unknown" categories. Other users can vote "Unknown" files up or down, and while the scores don't tell you much just yet, over time they should help you identify potentially unwanted programs.
SUPERAntiSpyware 6 also sees an interface revamp. The launch screen now displays six large, touch-friendly tiles, each of which leads to a key set of features: Scan, System Tools, Updates and so on.
Support.com claims the new release is also faster, more lightweight and stable, with an expanded Help menu.
The Pro edition ($29.95/ year) adds the ability to run System Investigator on a schedule, which means as well as highlighting potential threats, you'll be able to see which files have changed since last time.
Paying customers also benefit from email alerts. Scheduled tasks can now email a report URL, enabling you to monitor a PC wherever you are.
SUPERAntiSpyware 6 is available now.