4chan uses the fallout from the Fappening to introduce DMCA policy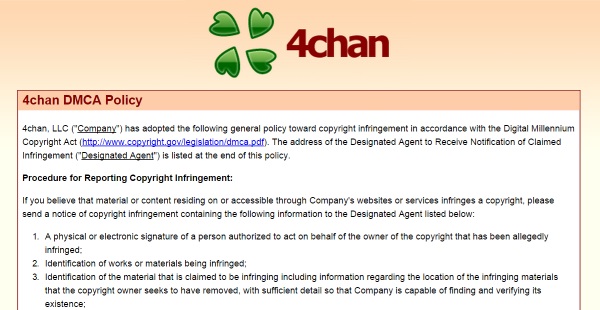 4chan is notorious at the best of times -- if indeed the site can be associated with such times -- but the Fappening phenomenon has been seen by many as a new low. Apple is undertaking an investigation into what happened to numerous iCloud accounts, but fingers have been pointed at the site where the celebrity photos first appeared. It could be entirely coincidental, but 4chan -- as noted by TorrentFreak -- has just introduced a DMCA policy for the first time in its controversial history. No announcement has been made, but the timing is certainly interesting.
Head over to 4chan's legal page, and you can read through the site's new DMCA policy in full. It explains that content may be removed from the site if it is deemed to contravene copyright law. As the celebrities involved in the recent photo leaks should be able to claim ownership of the copyright of images of them -- or, failing that, the person who took the photos could do so -- it would seem reasonable to assume that 4chan is responding directly to the criticism leveled at it.
What the DMCA policy means is that complainants now have a new point of contact if they want to request the removal of any content. The designated DMCA can be contacted by post at an address in Wilmington, DE, but the policy recommends "sending notices via e-mail for quickest response". Anyone getting in touch must show that the material they would like to have removed "is not authorized by the copyright owner, its agent, or the law".
4chan's new policy, as well as the way content expires on the site, should work in conjunction to help ensure that dubious content does not reappear, or, if it does, it doesn't stick around for long. But the spread of the celebrity photos across the internet shows that it does not really matter where content first appears -- if there is interest in it, it will spread. Well over a million people have download the images via torrent sites, and there's little that can be done to stem this flow of traffic.