Toshiba's 7-inch Encore Mini is one of the most affordable Windows tablets yet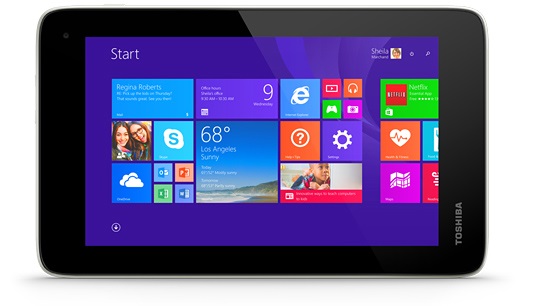 The tablet market is saturated with cheap Android devices, but there's also a growing number of Windows-powered slates pushing down the average price. The Toshiba Encore Mini is a 7-inch device unveiled at IFA 2014 today and it comes with a price tag of just $119.99.
While this is already a low price, it's possible that retailers will drop the price even further when it ships around September 17. Don't let the price point fool you -- this is not a Windows RT device; you get fully fledged Windows 8.1. But, of course, compromises have been made.
The quad-core Intel Atom Z3735G processor is backed up by just 1GB RAM, and the multi-touch screen has a resolution of just 1024 x 600. Internal storage is limited to 16GB, but there is a microSD slot that can be used to boost this. There is, of course, wireless connectivity and the ubiquitous front and rear cameras. The specs may be nothing to get too excited about, but the price is enticing, particularly with the Toshiba name attached.
Microsoft's decision to scrap licensing fees for Windows on smaller devices will have helped to drive down the price as much as the corner-cutting, and the Encore Mini is a good investment as a "spare" tablet, or a device to throw in a bag and take on trips. The tablet comes bundled with a one year subscription to Office 365 Personal, and includes 1TB of storage on OneDrive, adding further appeal.