Forget Mighty Mouse... forget Mickey Mouse... meet Music Mouse! [Review]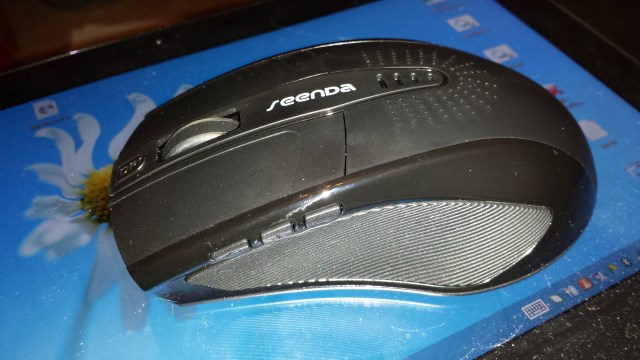 Sometimes a device that does a single job just doesn't cut the mustard. See those speakers cluttering up valued space on your desk? Be gone foul cones; your services are required no more! Are we foregoing music? Not a bit of it! We are switching to a wireless mouse with an integrated Bluetooth speaker! At least we are if it turns out to be any good...
Things don't get off to a great start. The Seenda IBT-C04 Music Mouse looks reasonable enough, if slightly retro; but in the hand it's big and angular. There is a slight nod to ergonomics and even a slightly rubberized grip area where your thumb falls, but from the offset it's not comfortable. Perhaps the minor discomfort is made up for by the extra features.
There's a weird little quirk with the Music Mouse. It's a wireless device but it is supplied with a USB cable. This is because, unlike most wireless mice, Seenda's peripheral has a built in rechargeable battery that cannot be replaced and has to be charged in situ. The 900mAh battery has a claimed life of six hours for music playback, and 72 hours for normal mouse use. For day to day mousing, this is not very long so you're going to want to make sure that USB cable is never too far away.
The mouse, which will set you back $40 from Amazon, has a few extra buttons. Above the scroll wheel, between the two main buttons, is a tiny, awkwardly placed button labelled DPI. The instruction manual says: "Press the DPI button repeatedly allow you to have different movement." (sic). In practice this means switching between 1000 and 1600 DPI modes. Not that it makes much difference because as a pointing device it's pretty unpleasant to use. It's just not very comfortable in the hand and is a bit on the unresponsive side.
But what makes this mouse interesting is the music feature; it's essentially a set of stereo Bluetooth speakers that can be paired with a PC, Mac (perhaps your new Mac mini!), tablet, or phone. Despite the fact that the device is a disappointing mouse, the sound output is surprisingly good. There's only 3 watts of power, but the quality is more than acceptable, with a pleasingly rich warmth. Volume can be controlled with two more awkwardly placed buttons -- up and down buttons can be found above where your thumb nestles.
In the same area is a phone button. As well as a speaker, the Music Mouse also has a built in microphone so it can be used for VoIP calls in a number of apps -- the phone button allows for the collecting and ending of calls. Sadly, the mic is not up to much and it's positioned right beneath where your palm sits on the mouse when in use. With this in mind, if you decide to persevere with using it in calls, just don't think about using the mouse at the same time or you'll not be heard.
Having the speakers built into the mouse presents a similar problem to the microphone. When you're not touching the mouse, the sound is decent, but grab hold of the rodent and you, obviously, muffle the output. It's a weird design flaw.
So is the Music Mouse any good? Yeah -- it's OK... as a novelty. Is it worth $40? Probably not. As a mouse it rates fairly poorly, but the audio side of things came as a genuine surprise. I was expecting awful output and I was proved to be unnecessarily pessimistic. It might serve as a handy addition to a laptop bag for a portable computer with poor speakers, but it's hard to recommend it as a peripheral for controlling a cursor.