According to Nielsen SVOD is the choice of couch potatoes everywhere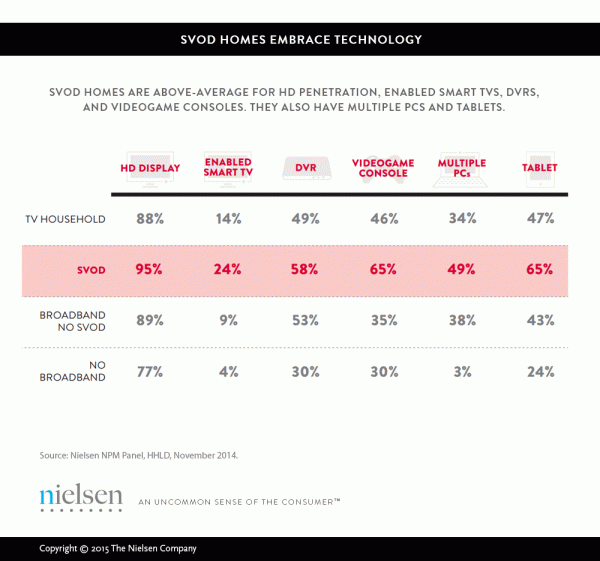 Nielsen has been tracking the TV viewing habits of Americans practically since the invention of the tube. In recent years the polling company has had to adapt its operations to fit with newer technology that is increasingly being used by customers to satisfy their video needs.
That now seems to be leaning dramatically towards subscription-video-on-demand (SVOD). A new report states that this form of entertainment is winning across the board, and the numbers aren't even particularly close in this poll.
"As a result, consumers' time and attention around media is in flux. Increased video viewing on digital platforms to both native digital content and TV-produced content, as well as the rise of subscription-based video on-demand (SVOD) across all platforms, are changing the way we look at the consumption of traditional media", the report reads.
Nielsen reports that more than 40 percent of US homes have access to SVOD (as of November 2014). 13 percent were using multiple forms of the technology. "Homes with subscription streaming services have both a penchant for TV-connected technology and, perhaps more importantly, display the greatest usage of these devices—nearly 50 minutes more than a typical TV home", the analysts state.
Those with this capability are more likely to own a smart TV, DVR, game console, tablet and multiple PCs. None of this is very surprising, given where the market seems to be headed.
Image Credit: Minerva Studio / Shutterstock