Track your PC activities with ManicTime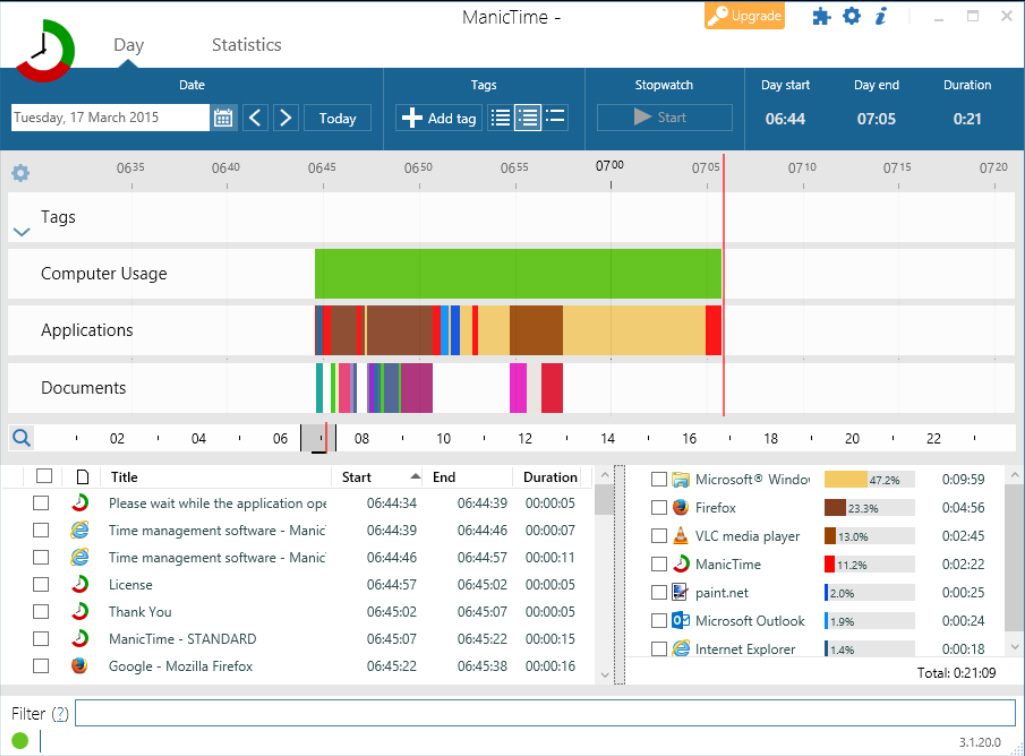 ManicTime is a free activity tracker which can monitor exactly what you're doing on a PC, then give you a detailed breakdown of which apps you were running, when, and for how long.
The program is aimed at business users who need to bill others for their time, but it can have other benefits. If you're easily distracted, say, then seeing exactly how much time you're spending on desktop games could be an important reality check.
Whatever your reasons for using ManicTime, it's very easy to get started. There's no complicated setup involved, just launch the program, get on with your work, and ManicTime runs in the background, tracking what you're doing.
Switch back to the program window at any time and a color-coded timeline shows you when your computer was being used, which applications you were running, the websites visited and the documents you were working on. The raw data is also available in a table ("you used Notepad from 10:12:15 to 10:16:23"), while a summary details the length of your work session and the total amount of time you spend in each application.
If you need to stop work for a while, clicking the green circle in the bottom left of the window sends you "off the record". Whatever you do next won't be included in the ManicTime totals.
Go back on the record, repeating all this as necessary until the job is done. You're then able to filter your history by keyword -- a document, a website name -- helping group common tasks together. A Statistics tab provides more ways of presenting your activities (Top Documents, Top Applications, more), and any of these may be exported as a PNG image or CSV data.
This isn't full-featured time tracking by any means, but if you'd just like to know how much time you spent in Word and Excel today, ManicTime will do the job very well.
And if you need more, a $67 Professional version adds server support (record what's happening on multiple machines), more detailed reports, a history search function, and a "stealth" option which means you could use the program to monitor others without their knowledge.