Want to sign up for Sling TV? Your Gmail address may not work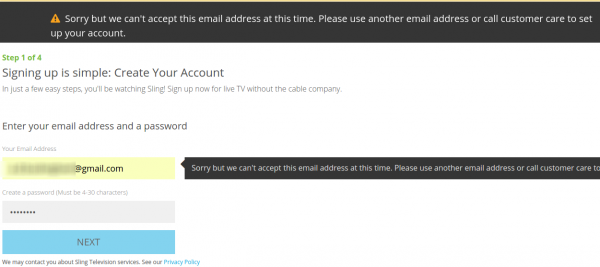 It's March Madness, which is an awful time of the year for those of us who no longer subscribe to cable or satellite -- at least not for TV.  The brackets are getting smaller and big games are pending, including my own team's matchup later tonight. Enter Sling TV to save the day. The service provides live TV and ample amounts of sports for any fanatic. That's why today I opted into the free seven day trial, or at least tried to.
Things didn't go smoothly, though it should, in theory, be an easy process. There was a major stumbling block and it came right in step one. I entered my Gmail address and was told I couldn't use it. A second try resulted in the same outcome. I clicked Contact, found that online chat with customer service was closed, but the phone variety was good to go.
I called and, while on hold, tried a third time using an Outlook.com address -- I have it, but never use it, so now was the time to break it out. Success! However, I stayed on hold, simply out of curiosity about the situation.
After answering numerous questions, most of which had nothing to do with the problem -- the only relevant one seemed to be if I'd had a previous account (I did not) -- I was placed on hold. Upon return the rep informed me that it was a problem on Sling's end. I queried for more information but got nowhere. I was told I can change email addresses when it's cleared up -- whenever that may be.
There is no way of knowing if this is isolated or widespread, so it's anyone's guess if their Gmail account will work or not. All you can do is try, cross your fingers, and have a backup plan. As for me, I have a basketball game to go watch.