ZTE Blade L2: An affordable 5 inch quad-core Android smartphone [Review]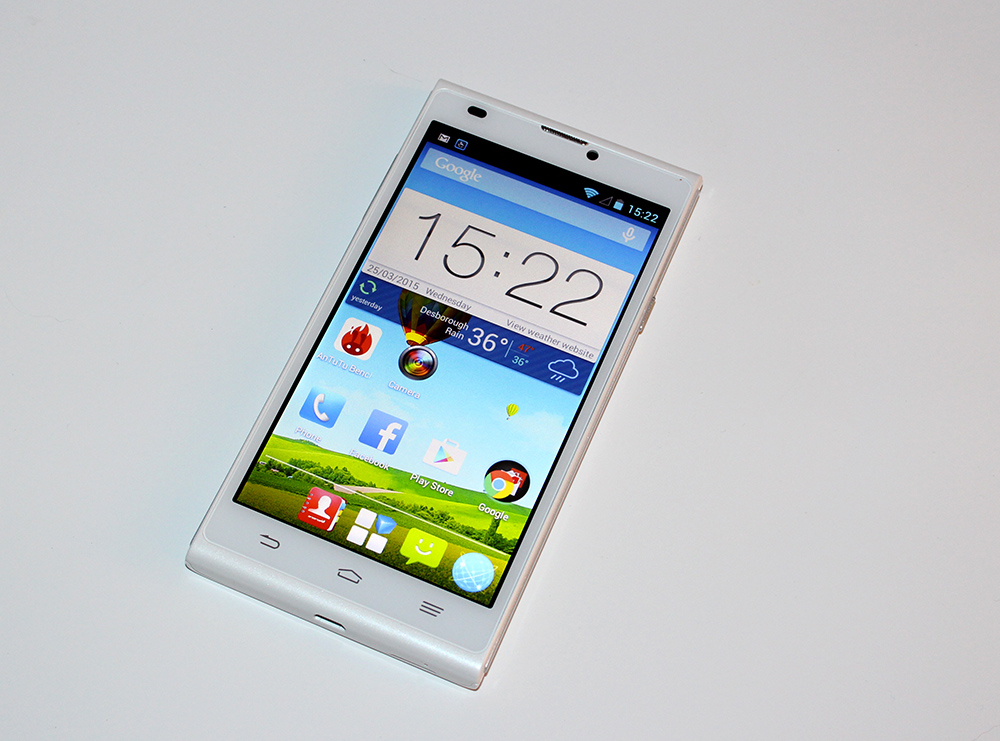 Smartphones have become such an important part of our lives that it makes sense to get the best make and model you can. However, not everyone can afford an iPhone 6 or Samsung Galaxy S6. Fortunately, there are plenty of great budget smartphones to choose from, and these days a budget price doesn't have to mean a budget experience.
The Blade L2, from Chinese firm ZTE, is a great example. It's priced at just £89.99 off contract, and for that you get a handset with a quad-core processor and a 5-inch screen.
The phone won't win any awards for style, but it's decent looking. The white plastic case has a bit of silver trim, although it's colored plastic not chrome -- but given the price that's forgivable.
The volume button is on the left, and the on switch is on the right. They are perfectly positioned, making the phone feel comfortable in the hand. It weighs 130g, which is reasonable for a phone of this size, and measures 142.5 by 72.2 by 8.95 mm.
The headphone socket is at the top of the phone, with the microUSB charger underneath. The speaker is on the rear, and gets covered by your hand when you're holding it, which makes it a rather strange design choice.
The back is removable, and clips on quite tightly. Removing it is easy enough, but you do fear that you might break some clips while doing so. Fortunately, you won't be removing the back too often as there's really no need to do so.
Once you've inserted your SIM card, and an optional MicroSD card, your work is done. There's a 2,000mAh battery in there, but -- as the wording on it says - it's "unremovable". The battery also helpfully informs you that if you need to restart the phone you can do so by pressing the power key for 15 seconds.
Right, let's take a closer look at what you get for your money. The heart of the ZTE Blade L2 is a MediaTek MT6582M Soc, with an ARM Cortex-A7 quad-core processor chip clocked at 1.3GHz and an ARM Mali-400 GPU. This is backed up with 1GB of RAM.
Our AnTuTu benchmark test gave the ZTE Blade L2 a score of 20,912, which is decent and actually puts it above the considerably more expensive Moto G (2014) which managed 17,975.
You get a paltry 4GB of storage so you really will want to be adding a microSD card to boost this. Connectivity comes in the form of Wi-Fi b/g/n, and Bluetooth 3.0 -- yes, Bluetooth 3.0 rather than 4.0 which is more energy-efficient and found on most devices these days.
The 5-inch screen has a 480x854 resolution which equates to a rather low 196ppi pixel density, and I had to crank up the brightness as the default setting is pretty dull. The viewing angles aren't great, but good enough.
Cameras-wise, there's a 5MP shooter on the rear with an LED flash, and a 0.3MP webcam on the front. I wasn't expecting great things from the cameras to be honest, which is just as well. Those taken with the main camera are reasonable, although the device is a little slow to focus. Images are quite soft, and much better in daylight than those taken indoors. There's a selection of pre-set camera modes on offer which are worth playing around with. You can also record 720p video at 30fps with it.
Photos taken with the front camera are pretty poor, although just about acceptable outdoors. If you take a lot of selfies this is probably not the camera for you. It's of more use for video calling, but again better in good lighting.
You can probably expect a full day and a half of battery life from the phone, even with the brightness ramped up. I've managed to get two days from it, albeit with light use.
The ZTE Blade L2 runs Android 4.2.2 Jelly Bean which was first released two years ago and has been usurped by KitKat as the most popular Android flavor. ZTE hasn't done much tweaking to the OS -- you have to long press the front screen to unlock the device (rather than swiping) and there's a TouchPal keyboard which is enabled by default. There are also Torch and ToDo apps, Kingsoft Office, and mapping app Navigate 6 which offers free downloadable maps of the world and a 30-day trial of Navigation, Traffic Information, and Speed Cameras.
Verdict
All in all, the ZTE Blade L2 is a decent phone. It's a good size, and while some intensive games lag a bit it's fast enough for general day-to-day use. The 4GB storage is nowhere near enough, but you can expand it by up to 32GB via microSD, which is definitely recommended.
It's priced at £89.99 from Ebuyer.
Image credit: Wayne Williams