After one week of Sling TV, here's the good and bad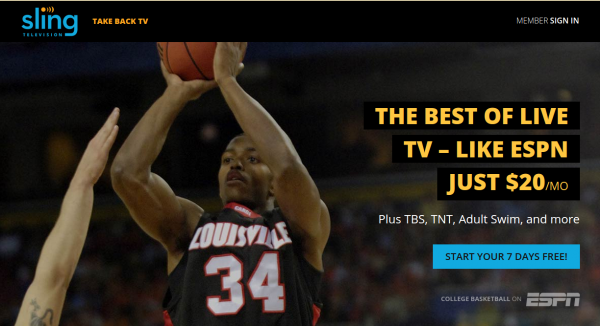 Almost a year ago DirecTV and I parted ways. I grew tired of the $60 per month charge when I only watch a handful of shows. The excessive amount of channels included in my bundle was also a bit of a joke -- I probably used ten of them. I'd have gladly paid less for those -- the à la carte TV that people talk about, though it never materializes.
I already had an Amazon Prime subscription that entitled me to movies and some TV shows, and it costs as much per year as one and half months' worth of satellite. I threw in Hulu Plus for an additional $7.99 and get most of my shows, though I have to wait until the next day to watch them. But live TV escaped me, with the exception of the occasional event broadcast online. Those live broadcasts online are fine, but neither Roku nor Amazon Fire TV has a web browser. Then several weeks ago Sling TV appeared on the scene. Live TV from multiple sources and, for once, no cable or satellite subscription to verify. Suddenly there was access to ESPN, History Channel, HGTV and many more. I've been using it for the past week and I have some observations.
The Sunny Side of the Street
The live streaming has been working flawlessly The channel selection "mostly" meets my needs. Combine it with Hulu Plus and the bases are pretty much covered. As a sports fan, having ESPN and ESPN2 is a dream come true. TNT is also there, and that allowed me to watch my basketball team lose in March Madness last week -- see it isn't all good! I can't exactly hold Sling responsible for that one though.
The interface is very simple, though there are some tricks that aren't obvious and we'll get to those in a bit. There's even some on demand shows, just in case you missed it live. It is essentially a scaled down cable service based online, something many people have wanted for a while. So what's not to love?
Welcome to the Dark Side
Things aren't all roses here, and that is easily noticeable by the price. $20 per month doesn't sound like a lot, but combine it with other fees like Hulu and Amazon Prime and you realize that you're headed back towards cable pricing again. It gets worse as well, because there are packages you can purchase to enhance that basic subscription. Each will add another $5 to your monthly bill. While ESPN and ESPN2 are basic, there's a sports package that adds more channels, like Universal Sports and ESPN News. Now your price is really heading up.
The interface, while simple once you know it, isn't intuitive. It will take some trying to get the hang of things. A down arrow press gives a channel selection and up makes on-demand appear. It is perhaps telling that Sling felt the need to explain how to access on-demand in a recent blog post.
One final tidbit -- Slashgear is reporting that some content may be getting restricted. I haven't encountered this problem thus far, so we'll see what comes of it.
In the End
While the price isn't cheap, it's still less than cable and satellite, and it works absolutely as well, though I suppose that depends on your connection. In my case there is no hesitation and no stutters. Once you've figured out a couple of things about the options it becomes easy and there's enough channels in the basic package to keep some, perhaps most, satisfied. For the moment I intend to keep it and perhaps even grab that sports package as well.