Microsoft's Q3 FY2015: The highlights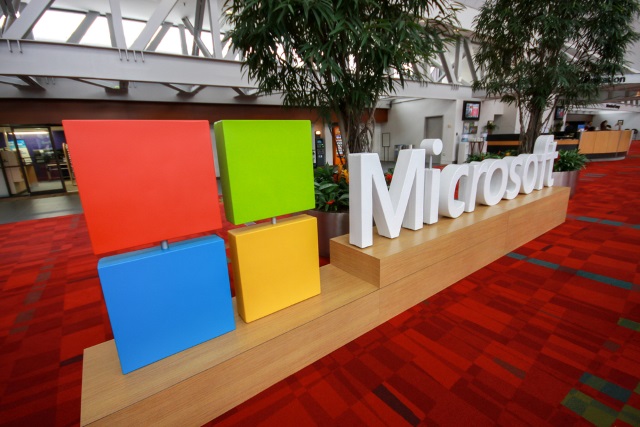 Microsoft has released its Q3 FY2015 (corresponding to Q1 CY2015) financial report, revealing revenue of $21.72 billion, gross margin of $14.56 billion, operating income of $6.59 billion, and diluted earnings per share (EPS) of $0.61. The software giant has beaten analyst expectations, which had placed revenue and the diluted EPS at $21.06 billion and $0.51, respectively. In after-hours trading, shares have risen from $43.34, at closing time, to $44.59.
A strong US dollar had influenced Microsoft's earnings, with the software giant estimating that "on a constant currency basis" it could have revealed stronger results across the board. For reference, in Q3 FY2014, Microsoft posted revenue, gross margin, operating income and diluted EPS of $20.40 billion, $14.42 billion, $6.97 billion and $0.68. As you can see, revenue and gross margin are higher, by 6 percent and 1 percent respectively, while operating income and diluted EPS are down by 5 percent and 10 percent, respectively. Let's take a look at the highlights of the quarter.
Expected (Bad) News
First off, Microsoft has delivered some expected news, announcing a drop of 2 percent in Windows volume licensing revenue as well as a 2 percent drop in Office Commercial products and services revenue. The former is explained by the Windows XP "refresh cycle" being over, while in the latter case Microsoft blames the weaker results on migrations to Office 365 and lower PC sales following the end-of-support for Windows XP.
Naturally, both Windows OEM Pro and non-Pro revenue declined, by 19 percent and 26 percent respectively. On the Pro side it is due to the obvious reasons: the Windows XP end-of-support and the decline of the PC market. (Windows Phone revenue from licensing is down by 16 percent as well, thanks to an influx of low-royalty handsets.)
On the non-Pro side, however, Microsoft says that revenue is down due to "channel inventory drawdown and ongoing mix shift to opening price point devices". Windows devices are certainly available starting at much lower price-points than ever now, partly due to Chromebooks and the lack of interest consumers have in upgrading. Microsoft even introduced a more affordable version of Windows 8.1, called Windows 8.1 with Bing, which has Bing set up as the default search engine as well as a lower price, to help OEMs drive down the cost of entry-level offerings.
Devices and Consumer
Now, on to the good news. Surface revenue is up by 44 percent to $713 million, thanks to the popularity of the Surface Pro 3 hybrid. Based on the generated revenue, unit sales are likely to be well below 1.5 million units. Microsoft hasn't revealed an official sales figure for any Surface model it sells.
It'll be interesting to see what sort of impact the newly-announced Surface 3 will have on the Surface revenue for Q4 FY2014. We'll have to wait three months to find out. In the meantime, however, we can expect its rivals to tout much higher tablet revenue and unit sales for the same quarter. That said, with a weaker tablet market, Microsoft has a chance to catch up in the long run, assuming its Surface slates keep on generating higher year-over-year revenue.
On the phone side, Microsoft has shifted 24.7 million phones -- non-Lumia-branded -- and 8.6 million Lumia Windows Phones. The former figure is down, as consumers are moving from feature phones to smartphones, while the latter is up 18 percent year-over-year.
Even with an increase in unit sales, Microsoft -- which dominates the Windows Phone market -- remains a modest player in the smartphone market. These numbers continue to disappoint in the grand scheme of things, as the market is growing much faster than Microsoft can manage.
Search advertising revenue is also up by 21 percent, due to a higher volume of searches and revenue per search. Bing has risen in popularity by 150 basis points year-over-year, reaching a market share of 20.1 percent in US. The gains, however, do not come from Google Search, which continues to lead the pack, but rather from lesser players.
To round up the Devices and Consumer side of things, Xbox Live usage has grown by over 30 percent, with a higher number of users and deeper engagement being the primary reasons for this. Revenue from games is also up, by 49 percent, thanks in no small part to Minecraft.
Commercial Side
Cloud revenue is up by a whopping 106 percent, with the primary drivers being Azure, Dynamics CRM Online and Office 365. For Microsoft, it's a $6.3 billion a year venture. Here are some interesting tidbits.
The usage of Azure compute, by customers, has more than doubled. More than two out of three Dynamics CRM customers opt for cloud deployments. Premium workloads make up more than 50 percent of the Office 365 installed base, a rise of 10 percentage points year-over-year. Also, there are 70 percent more Enterprise Mobility customers (over 13,000), which is 700 percent increase year-over-year.
Revenue from Server products and services is up by 12 percent (revenue from Server products alone has grown by 10 percent). The premium versions of Windows Server, System Center Service and SQL Servers have grown by 25 percent.
"Customers continue to choose Microsoft to transform their business and as a result we saw incredible growth across our cloud services this quarter", says Microsoft CEO Satya Nadella. "Next week at Build we're excited to share more about how we're empowering every individual and organization on the planet to achieve more with the next generation of our platforms".
Based on the aforementioned figures, Microsoft's "cloud first, mobile first" mantra seems to be more like 'cloud first because that's where the money's at, and mobile first because that's what will help us get there'. The strong cloud revenue is certainly more promising than the revenue generated by the software giant's mobile endeavors.
Photo credit: drserg / Shutterstock