Kingston HyperX releases Savage -- a fast and stylish SATA SSD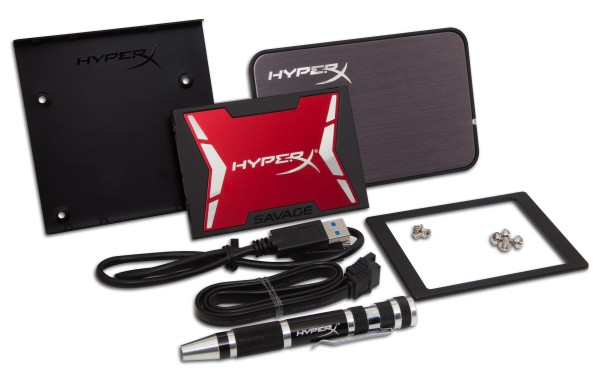 While enthusiasts move away from SATA-based solid state drives for faster (and more expensive) options, most consumers are perfectly fine with the standard option for now. In fact, it is a great time to be in the market for SATA SSDs, as larger capacity drives are becoming more affordable.
I just reviewed the SATA Samsung 850 EVO; a drive I like very much. While I appreciate Samsung's optional (and apparently, controversial) rapid mode and conservative design, there are people who are not fans of either. Kingston is a company known for quality, and its HyperX division is no exception. Today, that company releases the sexily-named Savage -- a traditional SATA SSD with an awe-inspiring and ostentatious design. If you like bling, the red aluminum will certainly get your motor running.
"HyperX Savage is the fastest SATA-based SSD in the HyperX family. With sequential speeds of up to 560MB/s read and 530MB/s write, and IOPS of up to 100,000 read and 89,000 write, HyperX Savage offers higher performance, ultra-responsive multitasking and an overall faster system. It features an eye-catching red steel and aluminum case with a low profile to fit most notebooks, desktops and small-form factor PC builds. This new design continues the HyperX trend as a leader in stylish gaming products", says Kingston HyperX.
The manufacturer further says, "HyperX Savage is available in 120GB, 240GB, 480GB and 960GB capacities. It is sold as a stand-alone SSD or with an upgrade bundle kit that includes a 2.5 inch USB 3.0 enclosure, 3.5 inch bracket and mounting screws, SATA data cable, hard drive cloning software, multi-bit screwdriver and a 7mm to 9.5mm adapter. The drive is available at Tiger Direct, Rakuten, Newegg and Amazon".
While many enthusiasts can forgo the upgrade bundle, I think it is a very nice touch from Kingston HyperX. While a mounting bracket is rather commonplace, the USB enclosure and screwdriver show attention to detail. In other words, the company is creating an experience and focusing on the consumer with these options.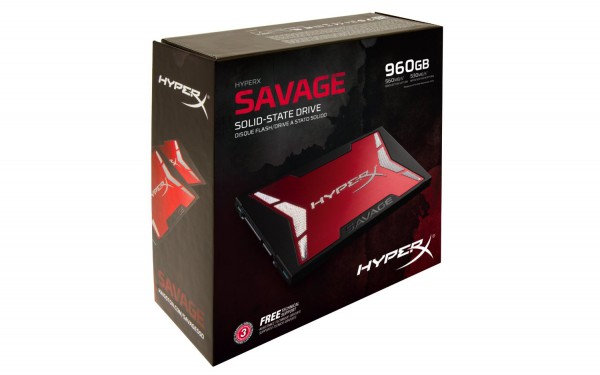 Check out the manufacturer supplied specs and benchmark results below. Tell me in the comments what you think.
Performance: incredible speeds for enhanced productivity
Unique design: stunning red casing to give an edge to the latest PC hardware
Slim: 7mm thickness to fit in most desktops and notebooks
Fast and easy migration: all-in-one kit available with premium HyperX accessories, including a handy multi-kit screwdriver and USB 3.0 enclosure for easy installation
Guaranteed: three-year warranty and free technical support
Form factor: 2.5 inch
Interface: SATA Rev. 3.0 (6Gb/s) – with backwards compatibility to SATA Rev. 2.0 (3Gb/s)
Capacities: 120GB, 240GB, 480GB, 960GB
Controller: Phison PS3110-S10
Baseline Performance:
Compressible Data Transfer (ATTO):
120GB: 560MB/s Read and 360MB/s Write
240GB, 480GB, 960GB: 560MB/s Read and 530MB/s Write
Incompressible Data Transfer (AS-SSD and CrystalDiskMark):
120GB: 520MB/s Read and 350MB/s Write
240GB: 520MB/s Read and 510MB/s Write
480GB: 520MB/s Read and 500MB/s Write
960GB: 520MB/s Read and 490MB/s Write
IOMETER Maximum Random 4k Read/Write:
120GB: up to 100,000/ up to 84,000 IOPS
240GB: up to 100,000/ up to 89,000 IOPS
480GB: up to 100,000/ up to 88,000 IOPS
960GB: up to 99,000/ up to 89,000 IOPS
Random 4k Read/Write:
120GB: up to 93,000/ up to 83,000 IOPS
240GB: up to 93,000/ up to 89,000 IOPS
480GB: up to 92,000/ up to 89,000 IOPS
960GB: up to 97,000/ up to 89,000 IOPS
PCMARK Vantage HDD Suite Score:
120GB, 240GB, 480GB, 960GB: 84,000
PCMARK 8 Storage Bandwidth:
120GB, 240GB, 480GB: 223MB/s
960GB: 260MB/s
PCMARK 8 Storage Score:
120GB, 240GB, 480GB: 4,940
960GB: 4,970
Anvil Total Score (Incompressible Workload):
120GB, 240GB, 480GB: 4,700
960GB: 5,000
Power Consumption: 0.39W Idle / 0.5W Avg. / 1.4W (MAX) Read / 4.35W (MAX) Write
Storage temperature: -40°C~85°C
Operating temperature: 0°C~70°C
Dimensions: 100.0mm x 69.9mm x 7.0mm
Weight: 120GB, 240GB, 480GB: 96g
960GB: 92g
Vibration operating: 2.17G Peak (7–800Hz)
Vibration non-operating: 20G Peak (10–2000Hz)
Life expectancy: 1 million hours MTBF
Warranty/support: 3-year warranty with free technical support
Total Bytes Written (TBW):
120GB: 113TB 0.89 DWPD
240GB: 306TB 1.19 DWPD
480GB: 416TB 0.81 DWPD
960GB: 681TB 0.66 DWPD