Google unveils the hottest search topics for Thanksgiving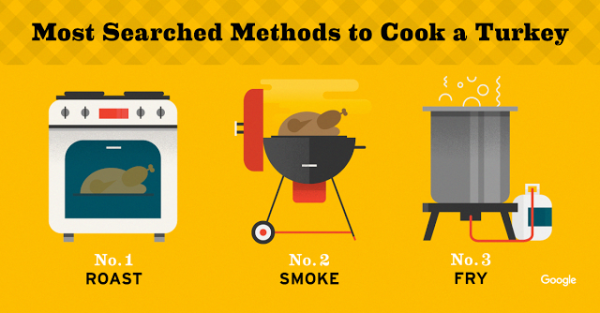 Thanksgiving is rolling around in the US, kicking off the holiday season. Of course this also means shopping, but at the moment minds are mostly geared towards food. To perhaps nobody's surprise cooking is a hot topic, after all it's what the holiday is all about -- well that and football.
Google has released the top search topics leading up to the big day. At the top of the list is, of course, turkey, the bird that was, at one time, nominated for the national bird though it lost out to the bald eagle.
However, the top search topic is "when was the first Thanksgiving?" A bit embarrassing but representative of the US public. Coming in second was when did Thanksgiving become a holiday? Reaching down to third place was why did the pilgrims celebrate it?
After that we move on to the food. According to Google "How to cook a turkey?" Is at the top of the list. "Related questions include 'how much turkey do you cook per person' (Answer: there's math involved but the most important part is making enough for sandwiches for multiple days after), followed quickly by 'How long to cook a turkey?' (answer: more math)".
Also at the top is cranberry relish and mashed potatoes. Surprisingly included is peach cobbler, lasagna and beef stew. Shockingly missing is pumpkin pie and pumpkin roll, as well as stuffing.
The most searched methods for cooking a turkey are fairly predictable -- roasted, smoked and fried, in that order.
So, enjoy your holiday and if you don't know how to cook the meal then it's a search away.