Sophos Home: super-simple free antivirus for Windows and Mac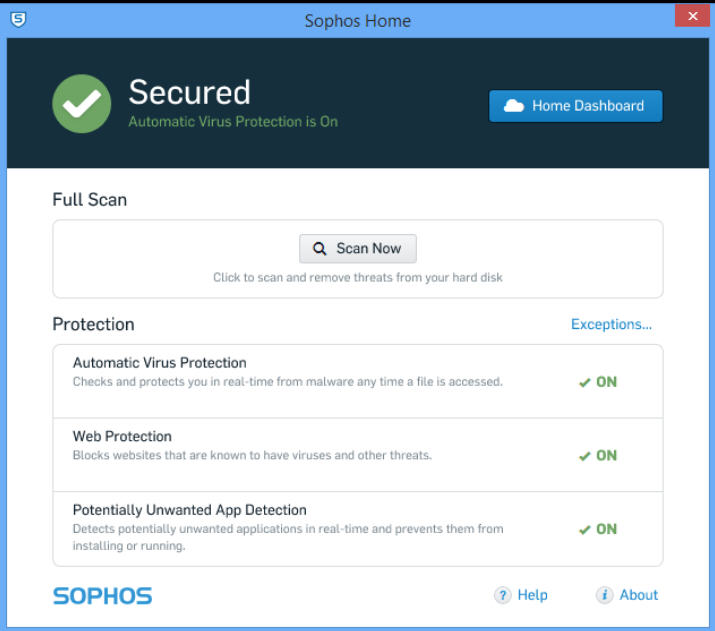 Avira, Avast, Baidu: plenty of developers offer free antivirus these days, and it can be as reliable as the commercial competition.
It's tough for a new product to stand out from the crowd, then -- but the new Sophos Home has found a way.
Simplicity. Back to basics. Let's just say, minimalism taken to a whole new level.
The Windows client has a "Scan Now" button, for instance, which launches a full system scan, and -- that's it. Okay, there are Help and About links, but no other settings or local actions you can perform.
But wait: this isn't as feeble as it sounds. The engine offers real-time protection and web filtering for blocking access to dangerous sites.
While the main console has only a "full scan" option, you can right-click any file or folder in Explorer and select "Scan with Sophos Home" for a quick check.
Sophos Home is really intended to be managed from the web, and its central dashboard offers more control.
You're able to remotely launch a scan; enable/ disable real-time protection, "potentially unwanted applications" detection and web filtering; block sites by category as a basic form of parental control; add antivirus, website or application exceptions, and view recent device events.
Better still, you're able to add other family PCs or Macs, up to a maximum of 10 (keeping in mind this is free for personal use only). You're then able to keep an eye on their current status, launch scans, check for attempts to access blocked sites, and more.
If Sophos Home worth your time? If you're an advanced user, looking for the best free protection, maybe for a single machine, probably not. Grab a copy of Avira Free instead.
But if you need something very simple, lightweight, which can protect multiple systems while still being easy to manage from a central console, then it should be on your shortlist. Take a look.
Sophos Home is a free-for-personal-use application for Windows 7+ and OS X 10.8+.