VIZIO P-series 4K TV displays have integrated 'Google Cast' technology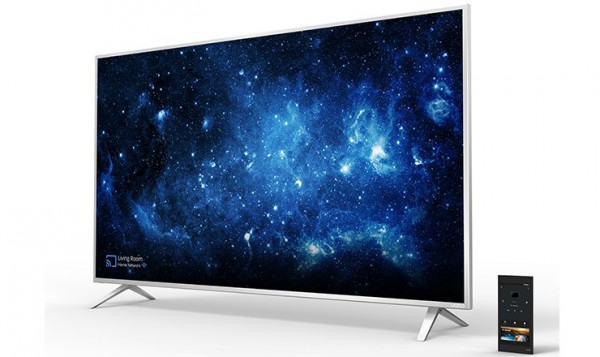 While smart televisions and displays are becoming more commonplace, it is becoming increasingly clear that they are not created equal. In other words, there are varying degrees of "smart", meaning some TVs have features that others don't.
I recently purchased a curved Samsung 4K display for my living room, and while it is amazing, it doesn't have a feature that I would really appreciate -- the ability to use Google Cast. Sure, I can connect a Chromecast dongle, but that is not elegant. Today, VIZIO announces its new P-series 4K displays, which have Google's technology built in. In addition, the company is integrating this casting feature into some of its speakers and soundbars.
"The P-series now comes with Google Cast built in, which means you can use your smartphone or tablet as your remote to cast your favorite entertainment directly to the big screen. Simply tap the Cast button from apps like Netflix to watch Daredevil, YouTube to stream daredevil stunts, or Google Play Music to get pumped for your own stunts. You can also mirror any website from the Chrome browser on your laptop. So whether you're planning your next vacation and looking through flights and hotels with the family, or want to share a video from your last epic trip, just look for the Google Cast extension in the corner of your desktop browser", says Adam Champy, product manager, Google.
Champy further explains, "we're also changing the name of the Chromecast app to Google Cast app, to better reflect that Google Cast technology is now supported across a wide range of devices such as Chromecast, TVs, displays and speakers. The Google Cast app makes it easy for you to discover great stuff to watch, find more apps, customize backdrop, and more. The updated Google Cast app will be rolling out this week on Android and iOS".
This slideshow requires JavaScript.
While this is awesome news for those in the market for a new smart TV or display, it unfortunately doesn't help those that already have one without integrated casting. Of course, you can always add an inexpensive Chromecast dongle, but it won't be as seamless as the built-in solution.
Speaking of the Chromecast, the search-giant certainly has a branding problem on its hands. The app that works with the dongle is now called "Google Cast" -- also the name of the technology used when casting with other devices uses. Referring to the add-on dongle as "Chrome" is just confusing at this point. Maybe Google was shortsighted when originally naming the dongle, and was caught by surprise by its success. I would be surprised to see the next generation of the dongles to carry the current name.
VIZIO makes reliable and affordable televisions, so those that are interested in these Google Cast-enabled displays should definitely check them out. Pricing starts at $1,000 for a 50-inch, and climbs as you move to the monstrous 75-inch model. You can compare the sets here.
Are you in the market for a new 4K TV? Will you give the VIZIO P-Series a look? Tell me in the comments.